Madhya Pradesh: Bharat Bandh against SC/ST Act amendment remains peaceful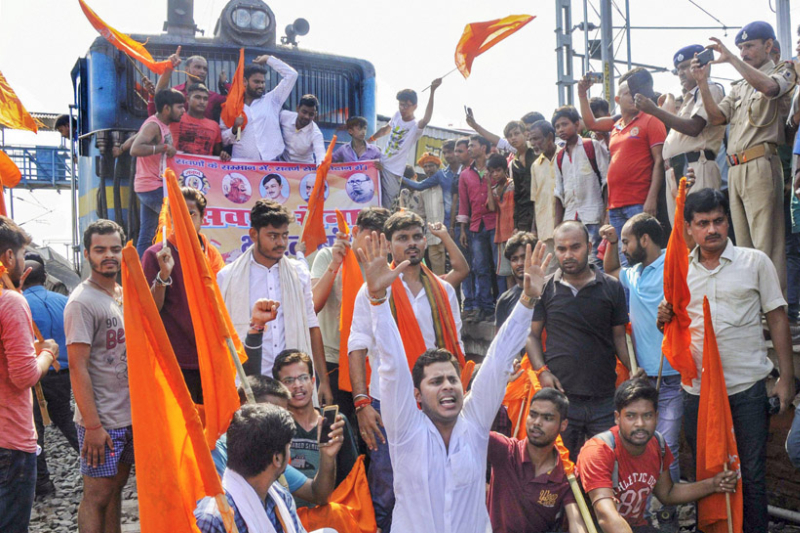 Bharat Bandh impact was seen in Madhya Pradesh, as most of the schools, colleges and Petrol pumps were remained closed in order to observe the Bharat Bandh against the SC/ST amendments Act on Thursday. Police said that Bharat Bandh has been observed in a peaceful manner without any reports of violence or clashes so far.
While the MP government has imposed prohibitory order under section 144 of CrPC almost all districts of the state and security has been beefed up as a precautionary measure.  The Bharat bandh has been called against the parliament amendment to the Scheduled Castes and Scheduled Tribes (Prevention of Atrocities) Act after some of its provisions were read down by the Supreme Court, which was construed as its dilution.
Brahma Samagam Sawarna Jankalyan Sangathan's national president Dharmendra Sharma said about 150 organisations of upper castes and OBCs are also participating in the Bharat Bandh. The Bandh was seen effective in almost the entire state,  more especially in Katni, Vidisha, Sehore, Dewas, Indore, Gwalior, Jhabua, Chhattarpur, Mandsaur, Sagar, Ujjain and other cities, he said.
Also read: Rajiv Gandhi Assassination case: SC asks TN Governor to consider Perarivalan's Mercy Plea
In Chhindwara, the Lok Sabha constituency of Madhya Pradesh Congress chief Kamal Nath, markets were also remained shut.  "Local residents wore black clothes in protest and business establishments remained shut," Vyapari Sangh president Mahesh Chandak quoted,
Several people in Gwalior, Bhopal and other cities were seen sporting caps with 'Main hoon mai ka lal' (I am my mother's son) written on them. These words apparently referred to Madhya Pradesh Chief Minister Shivraj Singh Chouhan's past statement- 'Hamare rahte koi mai ka lal aarakshan khatam nahi kar sakta' (No one can dare to end reservation as long as I am the chief minister).
Meanwhile, Chouhan urged the people saying, "Madhya Pradesh is an island of peace. I pray that we all progress and no one should try to disrupt peace in the state. I am available for everyone…for each citizen."
CM Shivraj Singh Chouhan said, Whatever you want to say, say in a peaceful manner and said, "The door of the MP CM and his heart is open for all. I appeal to everyone to ensure that law and order situation remains peaceful in the state and if there is anything they want to say, they should say it in a peaceful manner," he further said.
Earlier this year, the apex court had removed the strict provision of mandatory arrests under the Act. This decision had triggered nationwide protests by Scheduled Castes (SC) organisations, forcing the Centre to bring an amendment to the Act during the Monsoon Session to overrule the SC order.
The Gwalior-Chambal region in MP had seen a large-scale violence on 2 April this year during the 'Bharat bandh' called by Dalit groups. Now, the upper caste organisations are staging protests against the SC/ST amendments Act.
Also read: Ram Kadam Remark: Has BJP given Beti Bhagao Programme to Kadam? Asks Uddhav Thackeray