Maharashtra, Haryana to go to poll on October 21, results on 24th Oct
Assembly elections will be held in Maharashtra and Haryana on 21st October.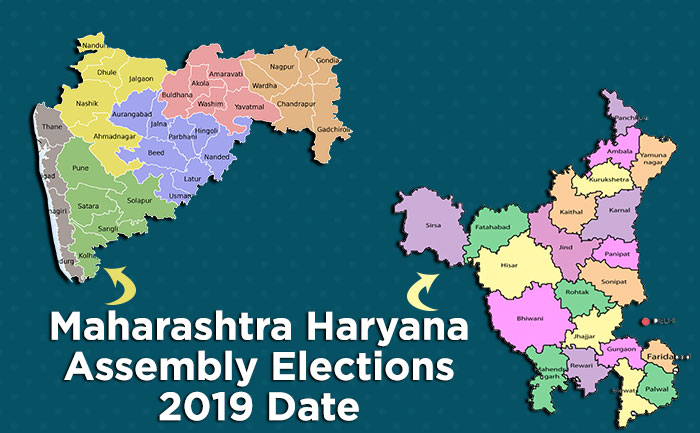 Maharashtra, Haryana Assembly Elections 2019 Date: The Election Commission of India on Saturday has finally announced the date of Maharashtra and Haryana Assembly elections 2019. Similar to previous elections, the election in Maharashtra and Haryana to be held in a single phase on 21st October 2019 and the results will be declared on 24th October.
The EC has declared October 4 as the last date for nomination and Oct 7 withdrawing them. The terms for Haryana assembly and Maharashtra assembly ends on November 2 and 9 respectively. Talking about the number of voters, Maharashtra has 8.9 crore voters whereas Haryana has 1.82 crore votes.
Notably, these would be the first state polls after Narendra Modi government scrapped triple talaq and revoked Article 370 from Jammu and Kashmir and divided it into two union territories.
Addressing a press conference, Chief Election Commissioner Sunil Arora said, "Two special expenditure observers, both retired Indian Revenue Service officers, will be sent to Maharashtra to check election spending by candidates."
Besides these two states, EC has also declared the dates for 64 by-elections throughout the country. "I request the cooperation of all stakeholders in this democratic exercise," the Chief Election Commissioner said.
Elections dates for Maharashtra and Haryana announced:
Issue of notification: September 27
Last date of nomination: October 4
Scrutiny: October 5
Nominations' withdrawal: October 7
Date of poll: October 21
Counting: October 24
In the 2014 election in Haryana, Bharatiya Janata Party (BJP) won 47 and the Congress bagged merely 15 and the Indian National Lok Dal (INLD) in 90 seat assembly.
In Maharashtra, the ruling party won 122 seats and Shiv Sena had to take only 63 seats whereas Congress and National Congress Party (NCP) won 42 and 41 seats respectively in 288 seat assembly.
The previous assembly elections were held in Haryana and Maharashtra in a single phase on 15th October 2014. The results for both were declared on 19th October 2014.