KBC 11: Sonakshi Sinha gets trolled for not knowing the answer of THIS question
Sonakshi Sinha, featured in the latest episode of Kaun Banega Crorepati 11, was trolled on social media after she took a 'lifeline' to answer a Ramayana-related question.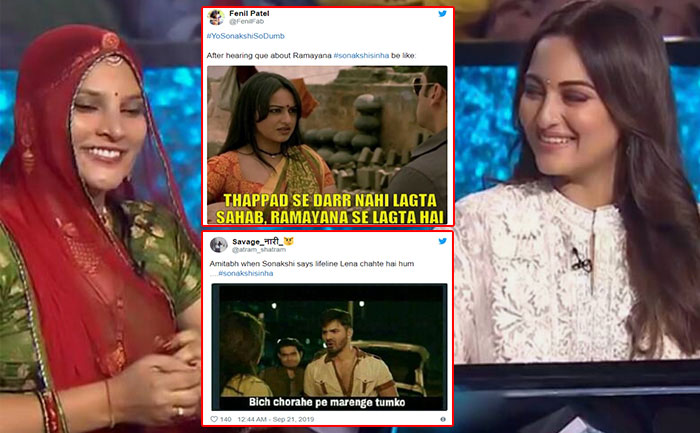 The latest episode of Amitabh Bachchan's Kaun Banega Crorepati 11 has become one of the most popular non-fictious Indian TV shows of this week. Bollywood actress Sonakshi Sinha appeared on KBC 11 to support one of its contestants Ruma Devi but ends up getting trolled for not being able to answer Ramayana related question.
Ruma Devi was invited on the show as a Karamaveer contestant, who works in an NGO named 'Grami Vikas Chetna Sansthan' in Rajasthan.  She is reported to have empowered over 22,000 women across 75 villages in Barmer and made them financially independent.
During the show, Sonakshi and Ruma were asked one of the questions that read, 'According to the Ramayana, Hanuman fetched the Sanjeevani herb for whom?'  The options were 'A- Sugreev, B- Lakshmana, C- Sita, and D- Ram.'
While Ruma seemed doubtful about her answer, Sonakshi seemed confused and was inclined towards option 'C. Sita.' Later, the two decided to use a lifeline and it was the expert advisor who informed Sonakshi and Ruma that B. Lakshmana was the right answer.
Not only that but the host Amitabh Bachchan also jokingly told Poonam Sinha that she shouldn't let her husband watch this episode for not knowing the answer of a Ramayana-related question after the episode went on air, she also became a target of trolls on social media.
Adding to this, Sonakshi joked that the gates of her house 'Ramayana' will be shut for her after this episode.
Here's how netizens trolled Sonakshi Sinha
#AliaBhatt #sonakshisinha Crown has been passed to Sonakshi from Aalia pic.twitter.com/zah9ztcO8v

— parmesh chand (@parmeshchand9) September 20, 2019
Meanwhile Poonam sinha mother of #sonakshisinha sitting in audience thinking ?
.
. pic.twitter.com/aqyuHkK1mr

— Dr.Aryan Chaos (@IndiaKaJones) September 20, 2019
Sonakshi before After that
that question. question. pic.twitter.com/awRZXOs6Fx

— Grumpy (@roooossshhiiiii) September 21, 2019
after knowing #sonakshisinha was unable to answer 'Sanjivani Booti' question during #KBC2019
Laxmanji be like: pic.twitter.com/PLUmemNkgS

— CS Sujit Jha?? (@SujitTweets_) September 20, 2019
Dumb can only marry with dumb ????#sonakshisinha pic.twitter.com/iCkWddyRzb

— Passionate_viv ???? (@VivekSange9) September 21, 2019
Shatrughan Sinha waiting to welcome #SonakshiSinha at home??#KBC11 #KBC2019 #YoSonakshiSoDumb

#sonakshisinha pic.twitter.com/X7HriyOPqU

— Rosy (@rose_k01) September 20, 2019
Just look at this #sonakshisinha said in the first place its sita and then she said Ram. And Lakshmann ji be like
#YoSonakshiSoDumb pic.twitter.com/auqahkAVYC

— Hemant (@ImGaurHemant) September 21, 2019
On the work front, Sonakshi will be seen once again as 'Rajjo' in 'Dabangg 3' which is directed by Prabhudeva. This film is said to hit the theatres on Christmas 2019.
ALSO READ: Sonakshi Sinha Reveals How Salman Khan Inspired Her To Lose Weight For Dabangg