Maharashtra: One Dead, 50 Feared Trapped After Raigad Building Collapse
One dead, over 50 still trapped after building collapses in Maharashtra's Raigad district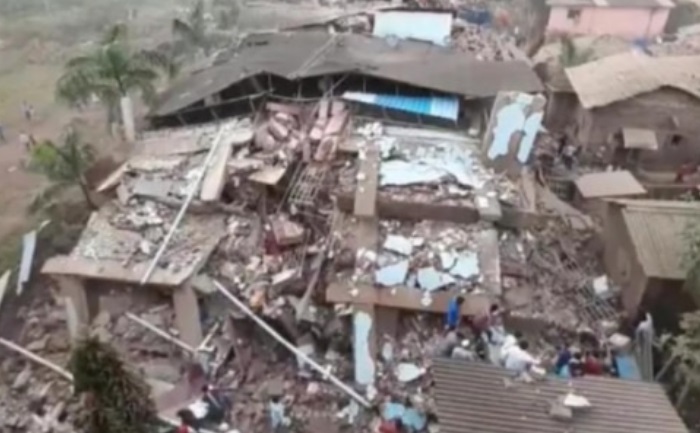 At least 15 people were injured after a five-story building collapsed in Maharashtra's Raigad district. More than 50 people are believed to be trapped under the debris. One person was killed while 25 so far have been rescued from the debris.
BIG BREAKING
5 Story building collapse in #Maharashtra #Raigad 50-70 people fear to trapped#raigad #RaigadBuildingCollapse pic.twitter.com/B88EtzygU8

— Amit Sahu (@AmitSahu_Journo) August 24, 2020
The incident took place at Kajalpura area of Mahad Tehsil. Around five teams of National Disaster Response Force have rushed to the spot. A rescue operation is currently underway. An F.I.R has been registered against the builder, contractor, and the architect of the building.
Reacting to the incident Home Minister Amit Shah tweeted, "The collapse of a building in Raigad, Maharashtra is very tragic. Have spoken to DG @NDRFHQ to provide all possible assistance, teams are on the way and will be assisting with the rescue operations as soon as possible. Praying for everyone's safety."
The collapse of a building in Raigad, Maharashtra is very tragic. Have spoken to DG @NDRFHQ to provide all possible assistance, teams are on the way and will be assisting with the rescue operations as soon as possible. Praying for everyone's safety.

— Amit Shah (@AmitShah) August 24, 2020
An NDTV report quoted an NDRF official as saying, "Today at about 6,50 PM, A ground+four floor building collapsed in Kajalpura area of Mahad Tehsil in District Raigad, Maharashtra. About 50 people are feared to be trapped. Three teams of NDRF have moved. Teams have moved with all the necessary equipment, Canine Squad etc."
Also Read: COVID-19 India: Maharashtra government extends lockdown till August 31