Maharashtra Rains: Massive Flooding In Chiplun As Torrential Rains Lash Ratnagiri
Chiplun Submerged Hundreds Stranded as Rains Continue Unabated in Ratnagiri District of Maharashtra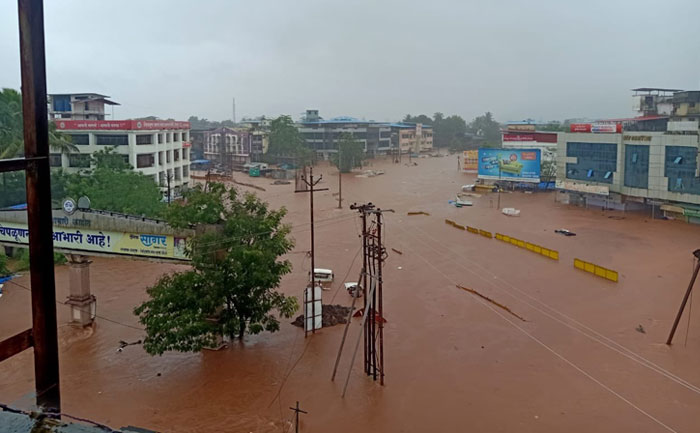 Torrential rains have been lashing Maharashtra causing flooding in many districts of the state. The National Disaster Response Force (NDRF) has deployed nine rescue teams in Maharashtra. This is after heavy rains caused flooding in some coastal areas of the state on Thursday.
Visuals of waterlogged streets and struggling people were viral as the downpour continued. Incessant rain has caused major rivers in Ratnagiri and Raigad districts to overflow above the danger levels. A number of long-distance trains have been cancelled or rescheduled as the tracks were submerged. According to rail officials, around 6,000 passengers were stranded in trains that were regulated at various stations on the Konkan Railway route. Authorities arranged buses for stranded passengers at two stations.
Ratnagiri district is bearing the brunt of the heavy rains, Chiplun being the worst hit. Rescue operations are on in flooded Chiplun. Stranded locals are being moved to safety by the Indian Coastguard. The local market, bus station and railway station are all submerged in Chiplun. The Vashishti river, the lifeline of the city, is flowing above the danger mark. The water levels rose to eight to ten feet submerging the first floors of many houses.
Check out here:
Streets waterlogged,colonies flooded due to high tide and heavy rainfall in #Chipalun and Khed area of #Ratnagiri. Local agencies are conducting rescue operation with boats.Coastal guard has been communicated for helicopter rescue.#NDRF teams from Pune also left for help. pic.twitter.com/fKEpWdfgBr

— Ali shaikh (@alishaikh3310) July 22, 2021
Maharashtra Chief Minister held an emergency meeting to take stock of the flood situation in the Ratnagiri and Raigad districts. He has directed the Disaster Management units and concerned departments to stay alert and start rescue operations. The Indian Navy teams will leave for the Konkan region, shortly, to join rescue operations in Ratnagiri, Chiplun and other areas of Konkan which are seeing heavy flooding. He also urged the locals to take all necessary precautions, ANI reported.
Also Read: Mumbai Rains: 15 Die, Several Feared Trapped After Landslides