National Mango Day 2021: Date, History & Significance Of The Tropical Fruit
National Mango Day 2021: History, Facts, And Significance About the King of Fruits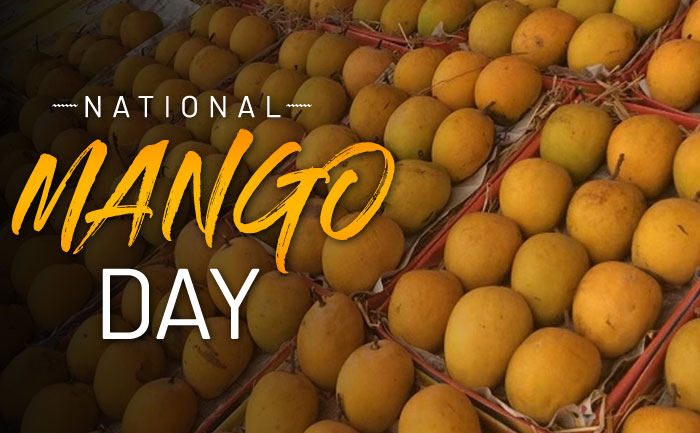 Mangoes are one of the hot favourite fruit of Indians. The King Of Fruits is most preferred during the summer season. The scientific name of Mango is Mangifera Indica and it is a member of the cashew family (Anacardiaceae). The Mango tree is considered indigenous to eastern Asia, Myanmar (Burma), and the Assam state of India. Mangoes protect us from heat strokes as they are rich in vitamins and fibre content. It is an edible stone fruit that originated from the region between northwestern Myanmar, Bangladesh, and northeastern India.
Here is all you need to know about National Mango Day:
Date: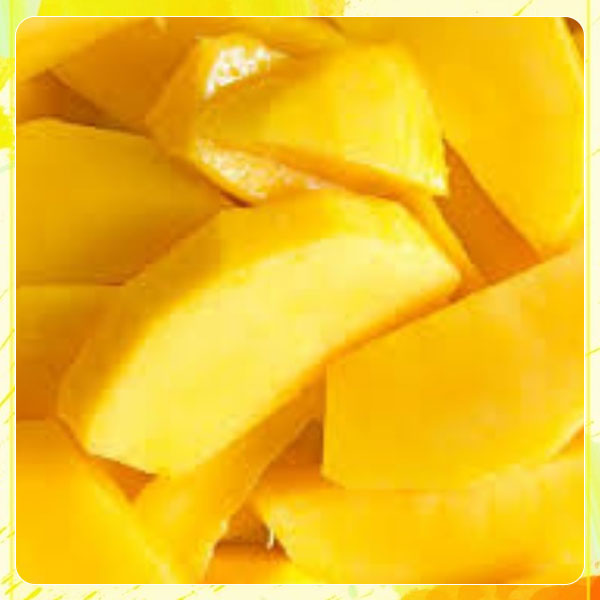 National Mango Day is observed on July 22 to honour this exquisite fruit and keep mangoes as the focus of the day. Be it a smoothie, ice cream, mango mousse or a mango dish we love it in all forms.
History of Mango in India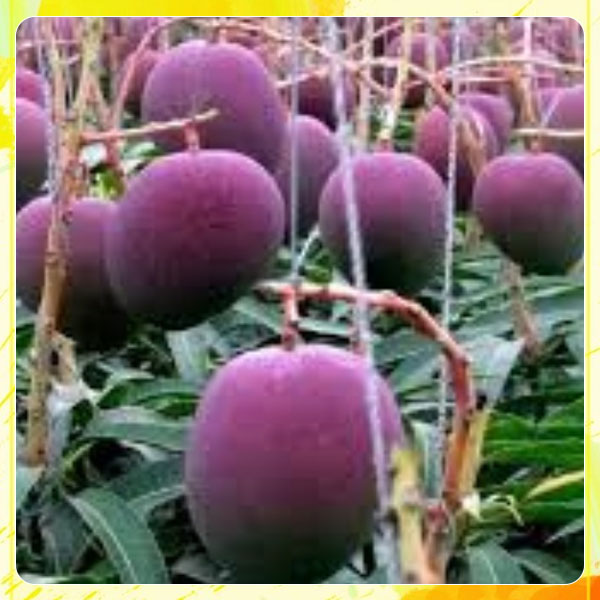 India is home to over 100 varieties of mangoes that are found in different shapes, sizes and colours. The word 'mango' comes from the Malayalam word 'manna' that was accepted by Portuguese as manga when they arrived for the spice trade in Kerala in 1498.
Mangoes were first grown over 5000 years ago in India. The fruit is connected with folklore and religious rites in India. Apparently, a mango orchard was presented to Buddha. Reports say that mango is considered indigenous to eastern Asia, Myanmar, and eastern India (Assam state). But there is no definite evidence of the same. Kerala's, Kannapuram in Kannur district is declared as 'Indigenous Mango Heritage Area' It is home to over 200 indigenous mango varieties.
Interesting Facts Of Mangoes: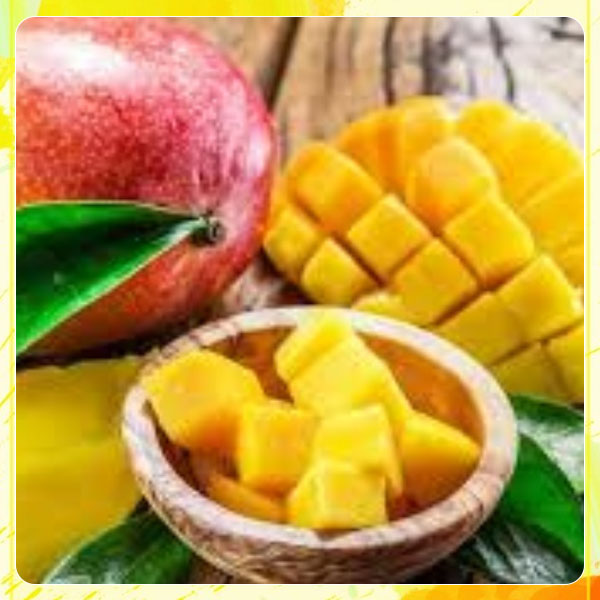 1. Mangoes are cultivated in India at a rate of around 20 million tonnes per year.
2. In India, a basket full of mangoes is considered a gesture of friendship.
3. Mangoes contain approximately 20 distinct vitamins and minerals, which contribute to their status as a superfood.
4. 3/4 cup mango has 50% of your daily vitamin C, 8% of your daily vitamin A, and 8% of your daily vitamin B6.
5. The paisley pattern developed in India is based on the shape of a mango.
6. Mangoes are related to cashews and pistachios.
7. A ripe mango is 14% sugar by weight and 0.5% acid by weight.
8 Mangifera Indica means "an Indian plant bearing mangoes".
9. The bark of mango, leaves, skin, flesh, and the pit has been used in folk remedies for centuries.
10. India is home to more than 100 varieties of mangoes.
Here are some recipes to try out on National Mango Day:
1. Mango Mousse: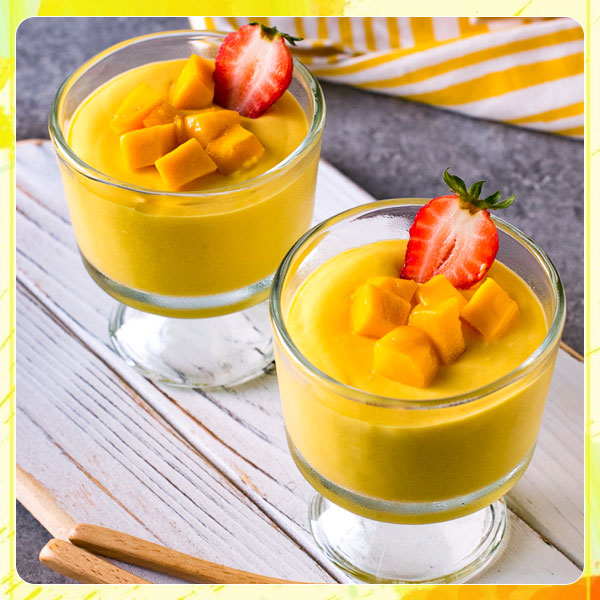 Ingredients:
2 cans full fat coconut milk, refrigerated
1/4 cup cane sugar
2 mangos, diced
5 tbsp water, or more
Toppings: whipped cream, mangoes
Method:
Chill the coconut milk in the refrigerator overnight.
Scoop the cream part out of the can of coconut milk
Place it in a bowl and mix with an electric mixer.
Add sugar and stir till it mixes.
Next, Add mango and water to a small blender and blend until mango becomes a puree.
Pour puree into the bowl with the coconut cream,
Stir the mixture till they blend
Scoop mixture into jars and refrigerate for at least 2 hours.
Before serving, add some chopped mango and whipped cream as toppings
2. Mango Panna Cotta: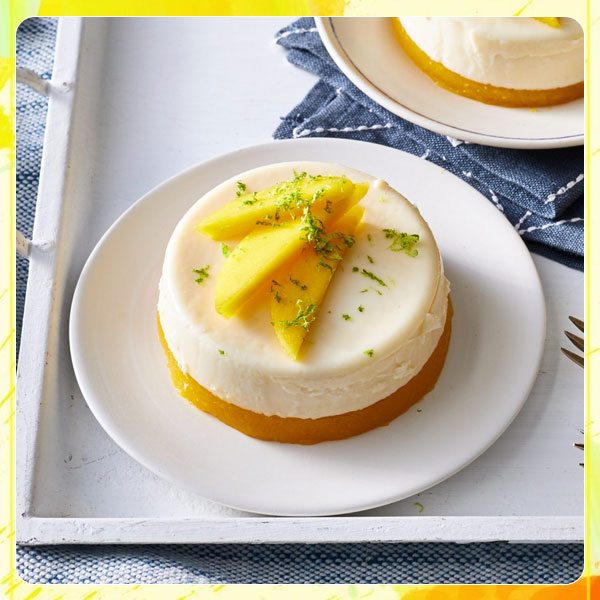 Ingredients
4 cups cold water
6 gelatin sheets
1 1/2 cups heavy cream
1/2 cup milk
1/2 cup sugar
1 teaspoon pure vanilla extract
Mango Layer:
3 cups small diced ripe mangos (about 3 large mangos)
2 – 3 tablespoons sugar (or more to taste)
¼ cup water
2 gelatin sheets
Panna Cotta:
In a medium bowl, add cold water and gelatin sheets.
Leave them to soak for 10 minutes.
In a medium saucepan mix the heavy cream, milk and sugar, stirring constantly on medium heat.
At the first, boil, add the drained gelatin sheets,
Mix until completely dissolved.
Let the mixture cool slightly.
Evenly distribute into a flexible silicone mould of your choice.
Refrigerate for 2 – 3 hours or overnight until firm.
Mango Layer:
In a medium bowl, add the cold water and the gelatin sheets.
Leave them to soak for 10 minutes.
Place 2 1/2 cups diced mango and sugar in a blender and blend until smooth.
In a small saucepan, bring the mango puree to a low boil and cook for 4 – 5 minutes, or until syrupy.
Reserve ½ cup of mango puree to serve later
Add drained gelatin sheet mix to dissolve.
Let the mixture cool.
Spoon mango mixture over the firm panna cotta.
Refrigerate for 2 hours until firm.
Mango Puree Sauce:
Mix the remaining mango puree with the fresh mango cubes.
Refrigerate until ready to serve.
Unmold the panna cotta and top with more mango sauce. Serve.
Oriana Romero
3. Mango Lime Pops: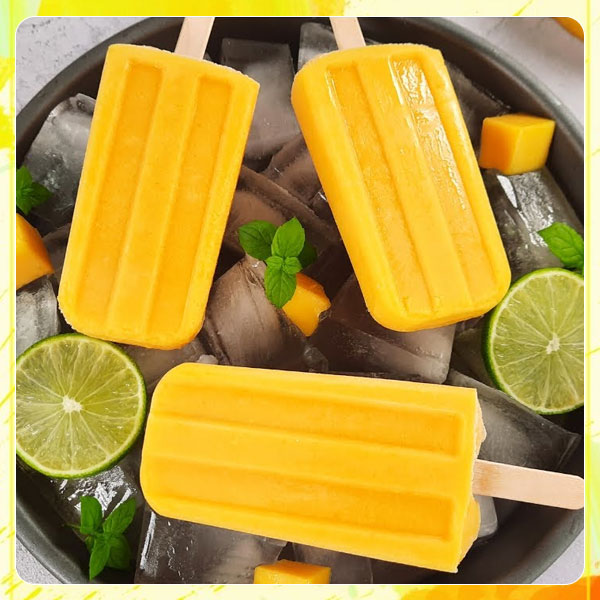 Ingredients:
2 ripe mangoes, chopped
2 limes, juiced (or about 1/4 cup fresh lime juice)
1/4 cup light coconut milk
1/2 cup water
Optional: a few pinches of sugar
9 plastic 3 oz. cups or popsicle moulds
small wooden craft sticks
Method
Puree all ingredients in a Blender.
Taste and add more lime or a pinch of sugar as per your taste
Pour into plastic cups or popsicle moulds
Freeze for 2 hours.
Place the sticks into the partially frozen pops.
Freeze till firm. Enjoy
Jeanine Donofrio
4. Mango Coconut Bites: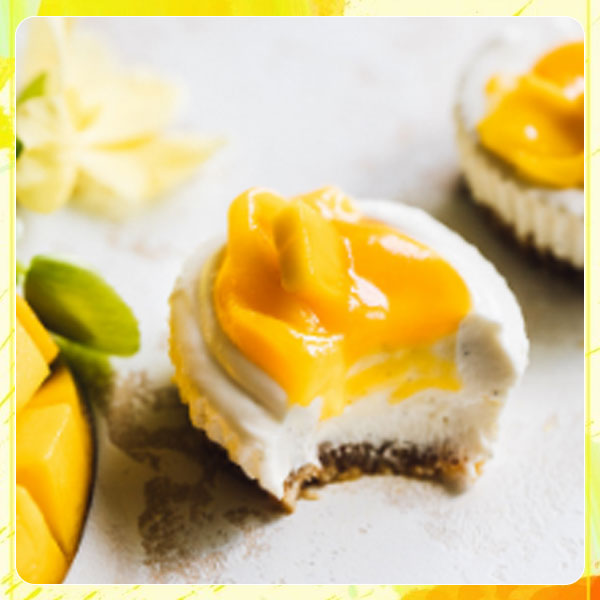 Ingredients
For the Filling
1 packet full-fat cream cheese, softened to room temperature
1 can unsweetened coconut cream
1/3 cup + 1 tablespoon powdered sugar
2 tablespoons fresh lemon juice
1 teaspoon vanilla bean paste
1/4 teaspoon sea salt
1 ripe mango, flesh scooped out
For The Crust
40 grams (1/2 cup) almond flour
85 grams soft, pitted dates
50 grams (1/2 cup) old fashioned oats
1 1/2 tablespoons melted coconut oil
1/4 teaspoon sea salt
Method
Take your can of coconut milk and refrigerate it.
Cut and scoop out the cream from the top.
Mix softened cream cheese and coconut cream in a food processor.
Process for 20 seconds.
Add powdered sugar, lemon juice, vanilla bean paste, and salt.
Process until completely smooth.
To make the crust, pulse almond flour and dates in a clean food processor, 20 times.
Add oats, coconut oil, and salt.
Continue to pulse and process, until the mixture starts sticking together.
Press 1 tablespoon of mixture into the bottom of each of the nine muffin liners.
Refrigerate for at least four hours.
Before serving, purée the mango and spoon some on top of each cheesecake.
Serve or refrigerate until ready to eat.
Amanda Paa
5. Mango Salsa: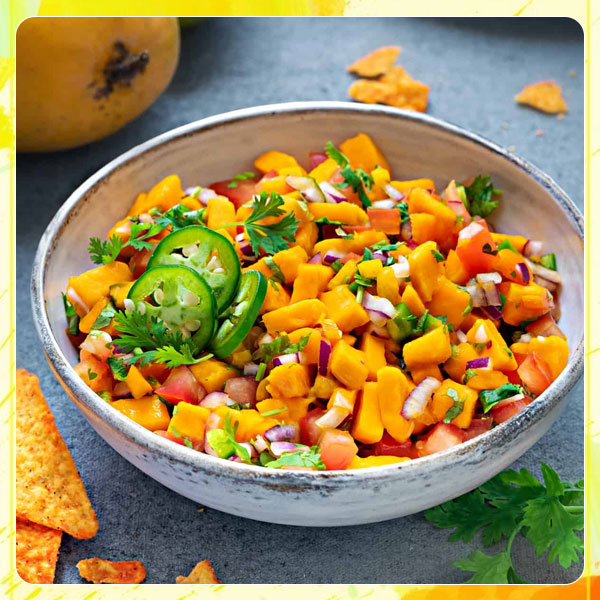 Ingredients
1 Onion Medium Size Finely Chopped
1 Capsicum Medium Size Finely Chopped
2 Tomatoes Large Finely Chopped
1/3 Cup Coriander Finely Chopped
1 Mango Large Finely Chopped Ripe & Juicy
1 Tbsp Lemon Juice
2 Green Chilies Finely Chopped
Salt to taste
Method
In a large mixing bowl add finely chopped onions, capsicum, mangoes, tomato, green chillies, and coriander.

Drizzle lemon juice and sprinkle salt to taste.
Mix all ingredients well.
Serve with Nachos chips.
Siddhi Panchal
Also Read:  It's Mango season! Top 7 sites to get fresh mangoes this summer