Man Miraculously Survives After Falling Between Moving Train And Platform – Watch
Video of man falling between running train and platform has gone viral on social media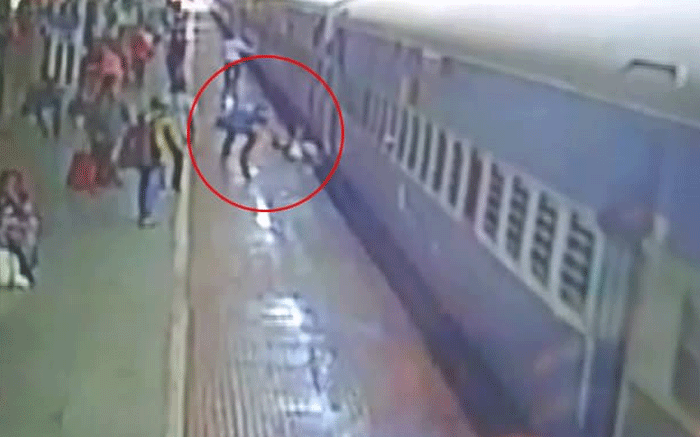 Yet another miracle happened in India but this time it took place in Odisha. A video of a man falling between the running train and platform at Jharsuguda station in Odisha has gone viral on the internet. However, the fortunate man named Talwar is survived in the heartwarming incident.
The video of the miraculous incident was uploaded by News Agency, ANI. In the video, Talwar can be seen trying to board the running train. When he makes an attempt to jump on board he stumbles and fell between the platform and moving train. As soon as the incident happened, locals present at the platform stepped ahead to help him but he was disappeared.
watch the video below:
#WATCH: A man survives after he fell on the tracks through the gap between the platform and the train at the Jharsuguda railway station while trying to board a moving train. (18-06) #Odisha pic.twitter.com/sz9wIYDN0z

— ANI (@ANI) June 20, 2019
The train was halted with the help of security personnel deployed at the railway station and Talwar was safely rescued. The Miracle man then boarded the same train and continued on his journey. Notably, Jhasuguda Station, where the incident took place is a major junction, which serves the north-western part of the state.
Not everyone is as lucky as Talwar. A similar recently took place in Mumbai, in which a Pune resident who had come to Mumbai to distribute invitation cards for his son's wedding died after falling off a CSMT bound Kurla train. According to a report published in TOI, his family claimed that he may have slipped and fallen on the tracks. Soon after the incident, the GRP personnel rushed to the platform and took him to Rajawadi Hospital, where he succumbed to his injuries.