Man Proposes While Skydiving, Watch Girls Reaction in Viral Video
Viral Video of a man proposing to his girlfriend while skydiving has left Netizens Impressed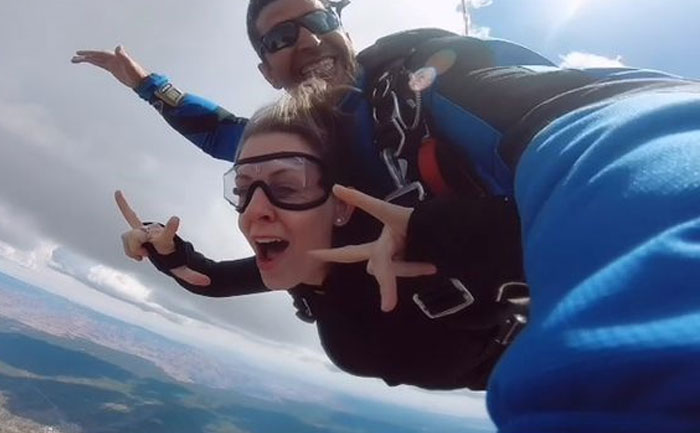 These days couple come up with unique ways to propose to their partners. A recent video viral on social media is all about one such proposal. A man has taken the act of proposing to a whole new level. He popped the question while skydiving giving his girlfriend a pleasant surprise. His reaction on her acceptance will leave you with a warm feeling in your heart.
Watch the viral proposal here:
View this post on Instagram
The video has created a buzz on social media. Ray an adventure sports enthusiast and pilot, surprised his partner Katie when he proposed to her mid-air. Netizens were impressed with the way he carried the ring in his mouth.
The video has Ray enjoying every moment of skydiving with his girlfriend. As she thanked him for the adventure He said " I love you" and pulled out the ring proposing her mid-air. His girlfriend was stunned by it and screamed in joy Yess. To which Ray gave a huge shot that she has accepted.
The viral video has garnered more than 3.4 k likes and 68 comments. The netizens soon flooded their social media handle with congratulations for the couple.
One user said, "Brooo… you took it to a WHOLE NEW LEVEL, my dude.. very impressive."
Another wrote, "They are in the skyyyyy. This is insane."
A third user added, "You had the ring in between your teeeeeeeeth? Just noticed damn, that was risky."
Also Read: Titanic: Alternative Ending Leaves Fans Amused. Watch Viral Video