Mass Effect Andromeda Cheats: How to Use Console Commands or Cheats in PC
Here's everything from the list of most useful MEA cheats or console commands to how to use them in PC.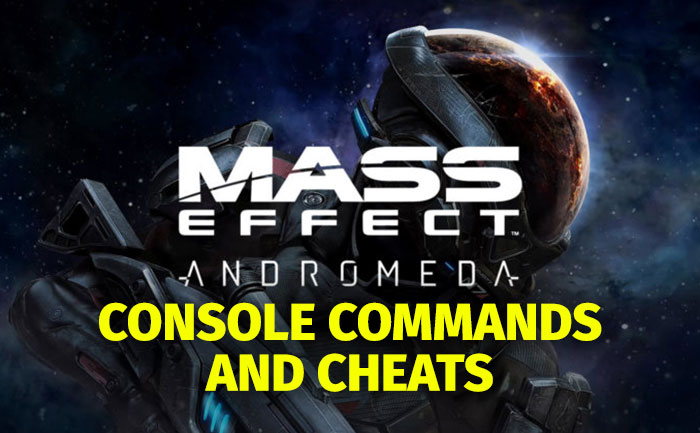 Mass Effect Andromeda Cheats or Console Commands: You must be know that all Electronic Arts games like Mass Effect Andromeda supports not only cheats but console commands as well. These cheats or console commands let user to capture screenshots, show their FPS or enable or disable new features/mods.
To open this console commands (cheats) in Mass Effect Andromeda, you will have to press the tilde key (~). In this guide, we have explained that how to open console window and provided a list of  commands and cheats for Mass Effect Andromeda you can use.
Mass Effect Andromeda Console Commands or Cheats:
As we have mentioned earlier that you will have to press the tilde key (~) to open console commands and then type "list' without any quotation and press enter to see a complete list of all Mass Effect Andromeda console commands in the game.
Mass Effect Andromeda cheats or Console commands:
GameTime.MaxVariableFps – Caps off your FPS
UI.DrawEnable – You have to use with a 0 or 1 to enable or disable on-screen user.
PerfOverlay.DrawFps – It is used to activate the game's built in FPS overlay.
Window.Width
Window.Height
GameTime.MaxVariableFps
UI.DrawEnable
Window.PosX
Window.PosY
Render.FrameSynthesisScaleH
Render.FrameSynthesisScaleY
Render.VSyncFlashTestEnable
Render.OutputBrightnessTestEnable
Thread.JobThreadPriority
WorldRender.TransparencyShadowmapsEnable
WorldRender.MotionBlurEnabled
WorldRender.MotionBlurRadialBlurMax
WorldRender.MotionBlurQuality
WorldRender.MotionBlurMaxSampleCount
WorldRender.FrameSynthesisMode
WorldRender.FilmicEffectsEnable
Thread.ProcessorCount
Thread.MaxProcessorCount
Thread.MinFreeProcessorCount
WorldRender.EmitterSunTransmittanceMapEnabled
WorldRender.EmitterSunTransmittanceResolution
WorldRender.LightTileCombineOutdoorLightEnable
WorldRender.SpotLightShadowmapEnable
WorldRender.SpotLightShadowmapResolution
RenderDevice.VSyncEnable
RenderDevice.TripleBufferingEnable
RenderDevice.RenderAheadLimit
RenderDevice.StereoConvergenceScale
RenderDevice.StereoSeparationScale
RenderDevice.StereoSoldierZoomConvergenceScale
RenderDevice.DxDiagDriverDetectionEnable
RenderDevice.Dx11Dot1Enable
RenderDevice.Dx11Dot1RuntimeEnable
WorldRender.LightTileCsPathEnable
WorldRender.PlanarReflectionEnable
WorldRender.InterpupillaryDistance
PerfOverlay.Enable
PerfOverlay.DrawGpuGraph
PerfOverlay.DrawFrameGraph
PerfOverlay.DrawVblankGraph
PerfOverlay.DrawFps
PerfOverlay.DrawFpsMethod
PerfOverlay.DrawFcat
PerfOverlay.FcatWidth
PerfOverlay.DrawGraph
PerfOverlay.DrawGraphMethod
PerfOverlay.DrawCpuGraph
PerfOverlay.LegendDisplayFormat
PerfOverlay.FpsTimePeriod
PerfOverlay.FpsDisplayAlpha
PerfOverlay.FpsDisplayFormat
PerfOverlay.FpsDisplayScale
PerfOverlay.FpsDisplayOffsetX
PerfOverlay.FpsDisplayOffsetY
PerfOverlay.FrameFileLogEnable
NetworkPerfOverlay.Enable
PostProcess.ForceDofEnable
PostProcess.DofMethod
PostProcess.BlurMethod
PostProcess.SpriteDofEnable
PostProcess.SpriteDofHalfResolutionEnable
Screenshot.Render
Screenshot.Format
Screenshot.LayerMode
PostProcess.ScreenSpaceRaytraceFullresEnable
PostProcess.DynamicAOEnabled
PostProcess.DynamicAOMethod
Render.DrawScreenInfo
Render.ResolutionScale
PostProcess.ScreenSpaceRaytraceEnable
PostProcess.ScreenSpaceRaytraceDeferredResolveEnable
PostProcess.ScreenSpaceRaytraceSeparateCoverageEnable.
Most Useful Console Commands
GameTime.MaxVariableFps  — (Console command used to cap your FPS with a float value)
PerfOverlay.DrawFps —  (Console command to activate the FPS overlay)
UI.DrawEnable — (Console command to disable and enable the entire user interface)
If we missed any important Mass Effects Andromeda console command or cheats, be sure to let us know in the comment section below. Also, check our other guides and cheats for Fortnite Chapter 2 and other games.