Meghalaya CM Conrad Sangma Breaks The Internet By Shredding Some Iron Maiden On His Guitar
Meghalaya CM Conrad Sangma decided to unwind himself by shredding some Iron Maiden on his electric guitar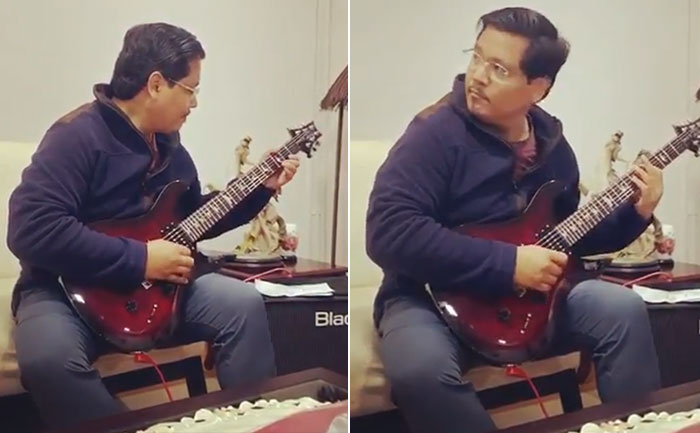 Meghalaya CM Conrad Sangma showed a different side of him when he shared a video of himself playing Iron Maiden on an electric guitar. The video was shared by the CM on Instagram.
Conrad Sangma has been actively fighting the spread of COVID-19 in his state of Meghalaya. The number of cases in the state has remained relatively low.
After a hectic 3 day Assembly session, Meghalaya CM Conrad Sangma decided to unwind himself by shredding some Iron Maiden on his electric guitar.
"After a hectic 3 day Assembly session .. unwinding with some iron maiden stuff .. it's been a long while I haven't played so I guess a few mistakes … (sic)," the Meghalaya CM captioned the video.
The video, which has over 30K views, has received a lot of love from the people of his state. In the video, Sangma is playing Iron Maiden's "Wasted Years" which was a part of the 1986 album Somewhere in Time.
The comments section of the video was filled with residents of the state and Iron Maiden fans praising the CM for his guitar skills.
"This is too good Sir Refreshing!" wrote one Instagram user.
"Wasted years…one of my fav," another said about the song choice.
"wow Sir you got talent," praised one.
Twitter users also got their hands on the video and obviously loved what they saw.
"That's my state's Chief Minister for you my friends," one Twitter user commented.
CM Conrad also gave followers a peek at his younger days through a picture on Instagram last week.
"Those were the times …"saga" … when we played the music … well now .. we face the music … times change I guess … team saga thank you for those great times and memories..:) (sic)," Sangma wrote.