Miley Cyrus Shows Off Her New Modern Mullet In Instagram Story
Mom Tish Cyrus had Cut Her Hair With Kitchen Scissors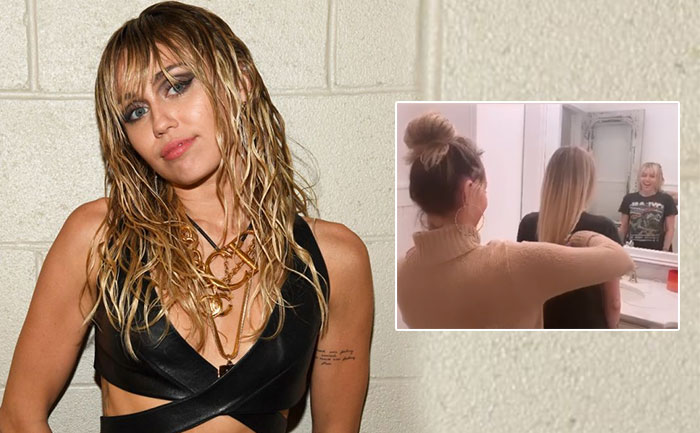 Miley Cyrus is no stranger to controversy. She has been in the news for everything from her eclectic sense of style to her unconventional lifestyle. However, this time the Malibu singer is in the news for her something much tamer. Miley Cyrus shared an Instagram story to debut a new hair do. Her hairstylist, Sally Hershberger, is labeling the hairstyle a 'modern mullet'.
The style change has caused quite an uproar amongst the singer's fans. Miley's dad, Billy Ray Cyrus, also rocked the look at the height of his career. As with anything Miley, the hair cut has been polarizing fans everywhere. It has also been getting a disproportionate amount of hate with fans calling out Hershberger for the cut.
Instagram user @MileysGem had some strong opinions about the hair do and called out Hershberger for it. "This is the worst haircut I've ever laid my eyes on u call urself a hairstylist now this is gonna be all over TMZ and the news plus the locals that don't like Miley are gonna think she's going through a meltdown again why can't we ever win gonna go cry now bye! That was all,"
However, Sally Hershberger didn't even do the cut for Miley Cyrus. It was Miley's  mother Tish Cyrus who did as she shared on her own Instagram account.
This didn't stop Sally Hershberger from defending the hairdo though, "First of all if you knew anything about hair, it's the position she's in that's why it looks that way, it's 100 percent even and she also had it straightened so it's more severe, which I actually like. That being said, chill out and know it's a modern mullet, which is very cool but it's something you probably aren't even well-versed in sorry but not sorry."
ALSO READ: Miley Cyrus Becomes Shocked To Liam's Hemsworth Sister-In-Law Dissing Her