Mirzapur 2 Makers Apologise to Novelist Surender Mohan Pathak
Mirzapur season 2 creators issue apology to writer Surender Mohan Pathak for inadvertently hurting sentiments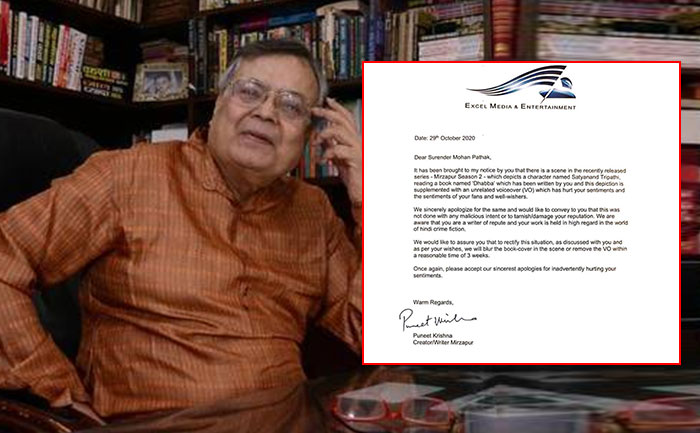 Mirzapur season 2 has been at the centre of attention ever since its release. Fans are once again blown over by Pankaj Tripathi and Ali Fazal's performance in the crime drama. But a grievance by Hindi crime fiction novelist Surendra Mohan Pathak has been hitting headlines. He has accused Mirzapur's makers of misrepresenting his 2010 book Dhabba as "sheer porno" in the series. Now the makers have issued an apology to the writer for hurting his sentiments.
Speaking to The Indian Express, Pathak had said that the character played by actor Kulbhushan Kharbanda in the show can be seen reading from his book Dhabba in the third episode of the series. "A voiceover reads out a sequence that appears to be an excerpt from the book. It is explicitly sexual and doesn't exist in the novel. I have been writing pulp fiction for nearly 60 years, my books continue to be bestsellers, but sex or violence have never been the hooks for my books. People will see this and think that this is my life's work. This just seems to be mal-intentioned."
A letter signed by Puneet Krishna, one of the creators and a writer on the Amazon Prime Video crime thriller series, was shared on the Twitter account of production company Excel Entertainment. They added that the scene will be rectified and the book-cover will be blurred.
Check it here:
— Excel Entertainment (@excelmovies) October 30, 2020
Mirzapur season 2 is currently streaming on Amazon Prime Video.
Also Read: 'Mirzapur 2': MP Anupriya Patel Demands A Ban On Ali Fazal, Pankaj Tripathi And Divyenndu Sharma Starrer