India ready to meet Pakistan at UNGA, is Modi-Imran meet in offing?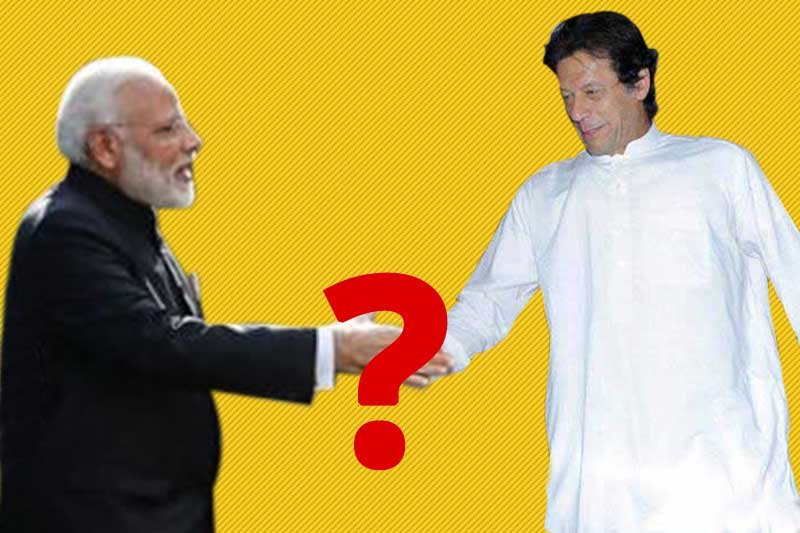 It seems the sultan of swing Imran Khan swung it in by extending an invite to Indian Prime Minister Narendra Modi for talk on terrorism, Modi played it straight over the wicket by accepting the offer.
Pakistan's new Premier Imran Khan's delivery on inviting Premier Narendra Modi to resume bilateral talks between the two nations was taken in good spirits and has yielded fruitful results. With India agreeing for bilateral talks between foreign ministers in the UNGA, is meeting between Khan and Modi in the offering?
India had put a comma on to the ongoing debate after 2015, stating that "Talks and terror can't go together". But with the latest letter to 'Modi Sahab' (dated September 14, 2018) on strengthening the relations by 'constructive engagement', Khan has endorsed his own swearing-in speech. As the invitation to initiate the process of dialogue between two nations' foreign ministers at the United Nations General Assembly — scheduled for next week — was accepted by India, major offerings are on a platter.
Confirming the meeting between the two counterparts — Indian EAM Sushma Swaraj and Pakistan's EAM Shah Mahmood Qureshi — Indian spokesperson Raveesh Kumar said, "I can confirm that on the request of the Pakistani side, a meeting between EAM and Pakistani foreign minister will take place on the sidelines of UNGA at a mutually convenient date and time."
He reiterated that this would be just a meeting, but does not guarantee talks or resumption of the dialogue process. However, speculations on the meeting between the two premiers of disturbed borders and fruitful talks might see the light of the day soon.
ALSO READ: Imran Khan ready to talk "Terror" with PM Modi