Pictures Inside: Mohena Kumari Singh receives royal reception in Rewa
Mohena and her husband Suyesh Rawat hosted grand reception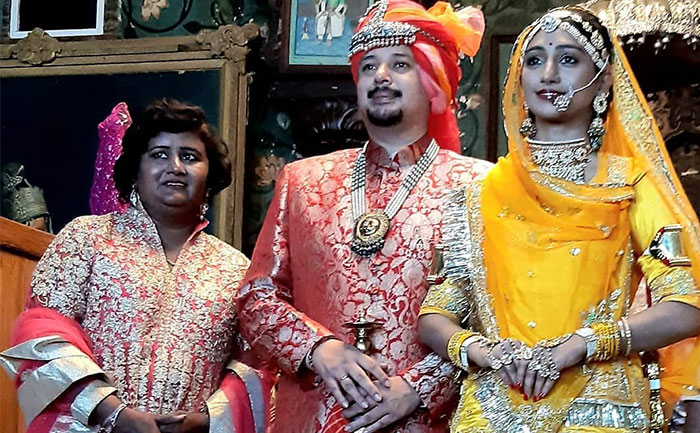 Actress Mohena Kumari Singh and her husband Suyesh Rawat hosted a grand reception sometime ago in Rewa, Madhya Pradesh. Yeh Rishta Kya Kehlata Hai fame Mohena Kumari Singh also a princess of Rewa lately had her bidaai from her beloved family after a spectacular, marvellous reception few days ago.
Apparently, the Royal couple hosted magnificent reception for their family and friends in Rewa, Madhya Pradesh after their grand wedding last month. Mohena who essayed the role of popular character Keerti Singhania in Yeh Rishta Kya Kehlata Hai appeared as a dazzling royal bride in the pink colour Rajasthani attire whereas Suyesh dressed in an off-white sherwani and carried along his royal sword.
Meanwhile, Mohena Kumari Singh's choreographer friend Shampa Gopikrishna visited the reception as well as shared a gallery of photographs from the celebrations. She took to her social media handle Instagram to share the picture of the bride and groom.
Shampa captioned, "The last leg of #SuMokiShaadi in Rewa #mokibidaai @bertdsou And I had to be there to see @mohenakumari off..she didnt know we were coming- what a surprise she got! All thanks to @vasundhrarajlaxmi for helping us pull off the surprise — thanks Vasu. Lots of love to my #bff Mo and @suyeshrawat. You guys were glowing! Bless you!" Check out the picture.
It was last month when the couple married in Haridwar in the presence of friends and family. Suyesh and Mohena wore royal Indian tradition attires for all of the ceremonies. Have a look at the pictures and videos below.
Also Read: Yeh Rishta Kya Kehlata Hai Fame Mohena Kumari Singh Becomes A Regal Bride