PUBG, Subway Surfers & Candy Crush Saga Among The 30 Most Downloaded Android Games of 2019
THE 30 MOST DOWNLOADED ANDROID FREE GAMES OF ALL TIME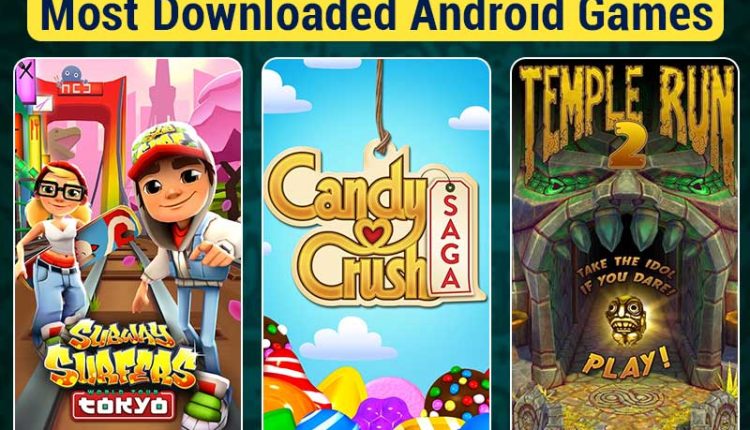 There is no doubt PUBG is one of the most downloaded Android Games in 2019 and we all know that because it has emerged as the most popular games of the recent time. Apart from PUBG, there are several best free android games available on Google Play, which can be easily downloaded without paying a single buck. The list of the most downloaded mobile application on Google Play has been topped by none other than Ludo King followed by Subway Surfers, Free Fire and PUBG Mobile.
In order to shortlist the list of most popular games on Google Play, we have compiled a list of 30 of the best free games for your android which belongs to all categories such Arcade, Action, Casual, Card, Simulations and others. This list has been listed on the basis of Google Play ranking factor. The following is a list of most downloaded Android Games. To see the complete list of 100 Most popular android games. Click here
Best free Android games in 2019
1. Ludo King
Ludo King is an android game that can easily be played on Desktop, Android, iOS and Windows mobile platform at the same time. Apart from its online features, it also supports offline mode as well.
2. Subway Surfers
Subway Surfers is an endless runner mobile game, which has been co-developed by Kiloo and SYBO Games, private companies based in Denmark. It is compatible with all the devices such as Android, iOS, Kindle, and Windows Phone platform.
3. Garena Free Fire
Garena Free Fire is an android game where players enter a battlefield where there is only one winner – the last man standing. It has been developed by a parivate company Garena International.
4. PUBG MOBILE
Everyone is going crazy about this game. It is to be noted that PUBG has gained popularity overae period of less than  a year and now it has been downloaded by more than 100 million people across the world. PUBG has been developed by Tencent Games.
5. Vegas Crime Simulator
Vegas Crime Simulator is a third person action based game which has been reportedly inspired by the most popular PC Game GTA: Vice City where you have to control the crime ration.
6. Candy Crush Saga
Candy Crush Saga is a free-to-play match-three puzzle video game, which was released by King on 12 April , 2012, for Facebook. Later, they have updated the same for iOS, Android, Windows Phone, and Windows 10. It is a variation of their browser game Candy Crush. Wikipedia
7. Subway Princess Runner
Subway Princess Runner is an endless princess running a video game. You have to be the best runner to save a beautiful princess. More characters, such as Bruce Lee, Santa Claus, choose your best-liked runner, rush in the beautiful snow subway scenes.
8. Color Bump 3D
Color Bump 3D is an android game which is based on the skills that test you with labyrinth-like paths that are filled with traps. If you like skill based games it would be best to play.
9. Temple Run 2
There was a time when Temple Run 2 was among the top five most downloaded smartphones but it has been pushed to number 9.  Temple Run has redefined gaming. Now get more of the exhilarating running, jumping, turning and sliding you love in Temple Run 2!
10. Moto Rider GO: Highway Traffic
The free android game Moto Rider GO: Highway Traffic brings to you one of the most compelling and satisfying traffic dodging experience in the world!
11. Hill Climb Racing
Hill Climb Racing is a 2D physics-based driving game, which has been developed by Fingersoft. During its first year of release in 2012, it was downloaded by more than 100 million times. If anything to by Google Play store it has been downloaded by over 50 million users.
12. Modern Warplanes: Combat Aces PvP Skies Warfare
Modern Warplanes: Combat Aces PvP Skies Warfare action game transfers you to the world of modern warplanes and supersonic jet fighters. The graphics and combat style in this game is amazing and it is being loved by millions of people across the country.
13. Bubble Shooter
In Bubble Shooter, you will have to match 3 colours and clear the level. Don't miss out this fun relaxing game. Train your mind with this original puzzle as you blast balls online or offline.
14. Counter Terrorist – Gun Shooting Game
Counter Terrorist – Gun Shooting Game allows you to fight sniper stealth missions. Explore 30 stealth shooter levels with 3 themes like Desert, Port and Snow. Be the top shooter commander and hunt all who are hiding in strategic locations.
15. Dr. Driving
Dr. Driving is a fun driving simulator with a good number of gameplay modes, levels, and rewards to keep you hooked for hours.
16. Paint Pop 3D
Paint Pop 3D is a one-tap addictive arcade game. It is an Android mobile game that's all about shooting paint at rotating panels in order to avoid hitting the obstacles whilst we're at it. This title is a casual game at its purest: a simple idea that's capable of glueing players to the screens for hours on end.
17. My Talking Tom 2
After Talking Tom, the creators of the game has come with jits another version My Talking Tom 2. Play with your new virtual best friend Tom in his cool free game and go on the adventure of your life! Talking with Talking Tom 2 is cuter, funnier, and more adorable than ever before. He reacts to everything you do and there are new surprises every day!
18. Train Sim 2019
The Ultimate Rail HobbyTrain Simulator fully immerses you in a World of trains, taking you to a place where you decide what to do, where and when. Explore and find out new area making sure the passengers reach their destination on time. Become the best train driver and discover Europe through Train Simulator 2019.
19. Temple Run
Temple Run is a 3D endless running video game, which has been developed and published by Imangi Studios. The game controls an explorer who obtained an ancient relic and is running from evil demon monkeys who chase him throughout the game.
20. Truck Driving Uphill – Loader and Dump
Truck Driving Uphill – Loader and Dump is a free 3D game where you have to drive a truck from various locations to carry the given objects. Choose from any given objects to increase your drive rewards. A free open world with highly detailed 3D graphics giving you the best driver feel. Explore the most beautiful mountainous green tracks with speed breaker on road.
21. MARVEL Contest of Champions
Marvel Contest of Champions is a free mobile game launched in 2014, which has been developed and published by Kabam. It is primarily set in the Marvel Universe. The game is strongly based on the events of the limited comic book series Contest of Champions.
22. Callbreak Multiplayer
Callbreak Multiplayer brings classic and famous card game with an online multiplayer feature to the Google Play Store. It is a trick-taking card game played with a standard 52-card deck between four players. There are 5 rounds in a game.
23. Mini Militia – Doodle Army 2
Doodle Army 2: Mini Militia is a 2D multiplayer action game that challenges you to face opponents from all over the world. Experience intense multiplayer combat with up to 6 players online or 12 using local wi-fi. Train with the Sarge and sharpen your skills in offline Training, Co-op and Survival modes. Shoot a multitude of weapon types including the sniper, shotgun and flamethrower.
24. Sniper 3D Gun Shooter: Free Elite Shooting Games
Sniper 3D Assassin is great gameplay, awesome visuals and entertaining missions. And best of all? It's a free fps game to pass the time! Defend the victims from kidnappings to bomb attacks to a Vegas hitman: hostage survival is critical!
25. Carrom Pool
Carrom Pool can easily be played by several users simultaneously. Pot all your pieces before your opponent. Can you become the best? With simple gameplay, smooth controls and great physics, travel around the world and play against worthy opponents. Are you up for the challenge?
Developed by: Miniclip.com
Category: Sports
Rating: 4.5/5
Downloaded: Over 10 Million
26. Happy Glass
In Happy Glass games, you will have to fill the sad empty glass with liquid and smile again.In order to find the best way to complete every level you can come up with your own solution so be creative and don't be affraid to think out of the box! Some levels might look easy but let's see if you can actually get the 3 stars.
Developed by: Lion Studios
Category: Puzzle
Rating: 4.3/5
Downloaded: Over 50 Million
27. MPL – Cricket, Bike Race, Pool & more games
Mobile Premier League (MPL) is an online-sports startup where users can play casual games, ranging from cricket to pool to racing and win money, depending on contests.
28. Fruit Ninja
Fruit Ninja is one of the best free Android games developed by Halfbrick. It was published on Google Play store on September 17, 2010 for Android OS devices.Prior to Andorid phones, it was launched for April 21, 2010 for iPod Touch and iPhone devices on July 12, 2010 for the iPad, later It was released for Windows Phone on December 22, 2010.
29. Talking Tom Cat
Talking Tom and Friends is a media franchise, which has been created and owned by Outfit7 Limited. They focus on many kind of mobile apps involving anthropomorphic animal characters repeating things said by the user. The first app, Talking Tom Cat, launched in July 2010.
30. Racing in Car 2
Racing in Car 2 is the perspective you are given. While driving the car in this game you will feel what the driver feel and see in real life through windows and of your hands and the steering wheel. This is a rather new perspective in terms of driving games, and it adds a different level of realism to this mobile racing game.