Aamir Khan Birthday Special: Here are 21 lesser known facts of Bollywood's Mr Perfectionist
Aamir Khan turns 54th: Here are 21 unkown facts of Bollywood's Mr Perfectionist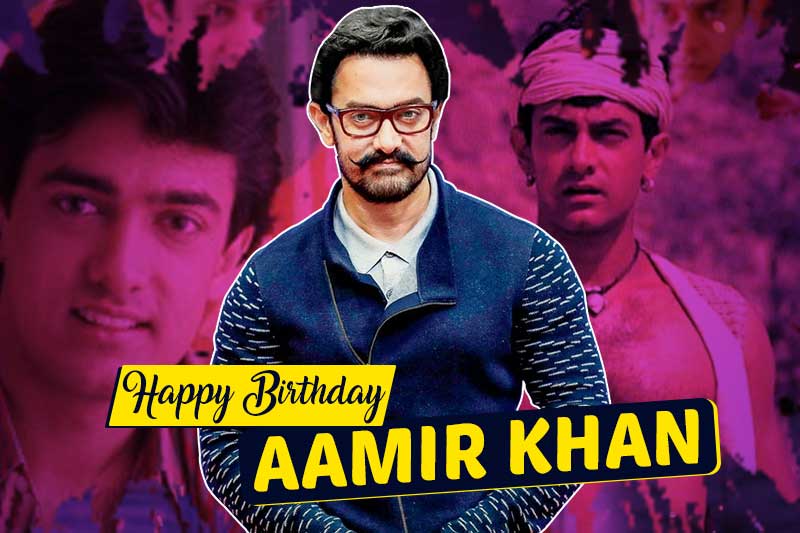 Bollywood's Mr Perfectionist Aamir Khan is today celebrating his 54th birthday. Like everyone else, Aamir has also sacrificed a lot in his life. Sometimes, these sacrifices were done for his roles, sometimes for his morals and principles and sometimes because he thought the role was not good enough for him. He is ruling Bollywood for around 2 decades. 'Qayamat Se Qayamat Tak', 'Andaz Apna Apna', 'Jo Jeeta Wohi Sikandar', 'Fanna', 'Ishq' 'Ghulam', 'Lagaan', 'Rang De Basanti', 'Taare Zameen Par', '3 Idiots', 'PK', 'Dangal', 'Dhoom 3', 'Secret Superstar', 'Mann', 'Ghajini' are some of the top films of Aamir Khan among others.
We all are big admirers of his craft and his courage to take on risks to play diverse difficult characters. He is considered to be the game changer and trendsetter in Bollywood. For all Aamir Khan fans, below are the 21 interesting lesser-known facts of this immensely loved and universally followed genius:
Aamir's full name is Mohammed Aamir Hussain Khan and belongs to family of Indian freedom fighter Abul Kalam Azad.
He is also a descendant of former President of India, Dr Zakir Hussain and a second cousin to former Chairperson of Rajya Sabha, Dr Najma Heptullah.
Aamir's nickname is 'Kahaiyalal'. This name was given by his family because as a child he used to play and be surrounded by girls most of the time.
Aamir Khan started his career as a child actor in his uncle Nasir Hussain's film 'Yaadon Ki Baaraat' in 1973.
His parents Zaakir Hussain and Zeenat did not want him to become an actor. They wanted him to focus on studies. But Aamir had stopped studying after high school.
Aamir Khan played tennis at various state level championships.
Aamir got famous with the film 'Qyamat se Qyamat Tak'. The budget of this movie was less, so he along with another man used to put up the film posters on buses and auto rickshaws.
Aamir has acted with Juhi Chawla in 7 films. Out of these, 5 films were a flop.
For Sarfarosh film, Aamir used to dub in the morning to get a rough voice.
Aamir can easily solve the Rubik's cube in less than 15 minutes.
You all must be remembering the famous stunt in the movie 'Ghulam' of running on rail tracks towards an incoming train. The actor just missed the train by a mere 1.3 seconds as he jumped off the track. However, it won the Best Scene Award at the 44th Filmfare Awards.
Aamir Khan Khan is a big fan of Alfred Hitchkock stories.
Not only in India but also for Pakistan, Aamir has done social work.
Aamir is the first one in the industry among popular actors, who started the trend of doing one film at a time.
Aamir khan also appeared in the only music video for the song 'Jab bhi Choom leta hoon' by Roopkumar Rathod in the year 2003.
Aamir Khan's 'Ghajini 'was the first film that grossed 100 crores and started the '100 crore club' trend.
Aamir Khan was married to Reena Dutta, for fifteen years, after which he married the film director Kiran Rao. He has three children—two with Dutta, and one with Rao through surrogacy.
He was the first actor to start a blog.
Aamir Khan was conferred Padma Shri in 2003 and the Padma Bhushan in 2010.
According to his wife Kiran Rao, Aamir has an eating disorder and he keeps eating something or the other.
Aamir's show 'Satyamave Jayate' went live simultaneously on Star Plus, STAR World and Doordarshan in eight languages, being the first to do so in India.
Also Read: Watch: Janhvi Kapoor Gets Irritated Yet Again On The Paparazzi