Time 100 Most Influential People 2019: Complete List Of Pioneers, Artists, Icons, Leaders & Titans
TIME's 100 most influential Leaders is out: Mukesh Ambani, Arundhati Katju and Menaka Guruswamy three Indians among the list.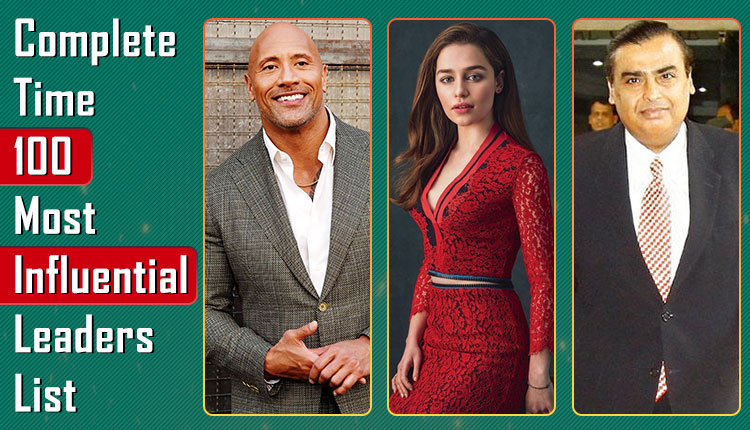 TIME has finally released the prestigious list of World's 100 most influential leaders, pioneers, titans and artiste of the year 2019 on Wednesday (April 17). The list of World's Most Influential people has names of India's richest man and Reliance Industries Chairman, Mukesh Ambani and two women Public Interest Litigators (PIL) Arundhati Katju and Menaka Guruswamy.
According to reports, the list of World's Most Influential leaders of 209 also has the names of the United States President Donald Trump, Chinese President Xi Jinping, Indian-American comedian Hasan Minhaj, Pope Francis, Pakistan's Prime Minister Imran Khan, Golfer Tiger Woods and Facebook founder Mark Zuckerberg.
While writing the profile of TIME 100 influential leaders' profile, Chairman of Mahindra Group, Anand Mahindra said, Dhirubhai Ambani was a visionary in Indian business, whose Reliance Industries conglomerate pioneered ways of targeting global scale.
"But Ambani's vision is now even more ambitious than that of the father whose blessings he unfailingly invokes at the launch of each initiative," he told news agency PTI. Appreciating Mukesh Ambani, Mahindra said that Reliance Jio mobile-data network is impressive by any standard. It has already connected over 28 crore people in India with low-cost 4G.
Citing Ambani's advertising campaign or tagline, 'Karlo Duniya Mutthi Mein' meaning put the world in the palm of your hand. He said, "It won't be long before he delivers on that promise."
The list of Time 100 Most Influential People has been divided into five different categories such as  Pioneers, Artists, Leaders, Icons and Titans.
Here is a complete list of Time 100 Most Influential People
Time 100 Most Influential Leaders – Pioneers
Sandra Oh
Indya Moore
Marlon James
Chrissy Teigen
Massimo Bottura
Hasan Minhaj
Samin Nosrat
Ninja
Arundhati Katju and Menaka Guruswamy
Naomi Osaka
Leah Greenberg & Ezra Levin
Fred Swaniker
Lynn Nottage
Tara Westover
Adam Bowen & James Monsees
Barbara Rae-Venter
He Jiankui
Aileen Lee
Jay O'Neal & Emily Comer
Shep Doeleman
Time 100 Most Influential Leaders – artists
Dwayne Johnson
Regina King
Khalid
Emilia Clarke
BTS
Brie Larson
Joanna & Chip Gaines
Ariana Grande
Mahershala Ali
Glenn Close
Rami Malek
Luchita Hurtado
Ozuna
Dream Hampton
Richard Madden
Yalitza Aparicio
Clare Waight Keller
Time 100 Most Influential Leaders – leader
Nancy Pelosi
Donald Trump
Greta Thunberg
Andres Manuel Lopez Obrador
Alexandra Ocasio-Cortez
Jacinda Ardern
Juan Guaido
Abiy Ahmed
Mitch Mcconnel
Brett Kavanaugh
Jane Goodall
Benjamin Netanyahu
Zhang Yiming
Hoesung Lee
William Barr
Pope Francis
Xi Jinping
Leana Wen
Imran Khan
Crown Prince Mohamed Bin Zayed
Cyril Ramphosa
Robert Mueller
Mahathir Mohamed
Matteo Salvini
Jair Bolsonaro
Zhang Kejian
Time 100 Most Influential Leaders – icons
Taylor Swift
Michelle Obama
Spike Lee
Christine Blasey Ford
David Hockney
Desmond Meade
Lady Gaga
Radhya Almutawakel
Pierpaolo Piccioli
Maria Ressa
Caster Semenya
Mirian G
Grainne Griffin, Ailbhe Smyth and Orla O'Connor
Loujain Al-Hathloul
Time 100 Most Influential Leaders – titans
Mohamed Salah
Lebron James
Jennifer Hyman
Gayle King
Mark Zuckerberg
Tiger Woods
Jeanna Gang
Bob Iger
Pat McGrath
Alex Morgan
Vera Jourova
Ryan Murphy
Mukesh Ambani
Ren Zhengfei
Marillyn Hewson
Jerome Powel
In March 2019, Mukesh Ambani jumped six positions up to rank 13th on Forbes World's Billionaire list with a net worth of USD 50 billion (over Rs 3.5 lakh crore). According to Forbes' 2019 Ambani's wealth has been increased to $50 billion in 2019 from USD 40.1 billion in 2018.
Writing profile for Arundhati and Menaka, Global actress Priyanka Chopra said, "Arundhati and Menaka have helped take a giant step for LGBTQ+ rights in the world's largest democracy. In their committed fight for justice, they have shown us that we as a society must continue to make progress, even after laws are changed, and that we must make an effort to understand, accept and love."
Also Read: Mukesh Ambani Tops 'Barclays Hurun India Rich List 2018'; Earned Rs 300 Cr Per Day