Anil Kapoor-Sridevi's Mr India turns 32. Here are interesting facts of the film
11 lesser known facts of Sridevi and Anil Kapoor starrer Mr India that was produced by Boney Kapoor and directed by Shekhar Kapoor.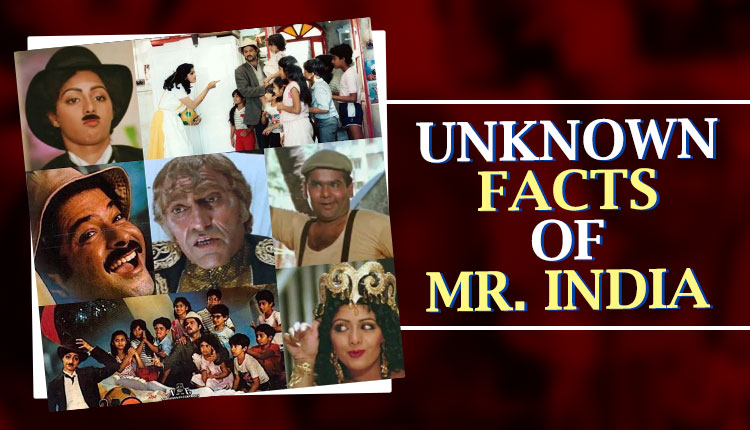 On May 29, 2019, Mr India a sci-fi film celebrates 32 years of its release. Now more than three decades later, still remains etched in hearts, thanks to crackling chemistry between its lead actors Sridevi and Anil Kapoor.
The 1987 film, directed by Shekhar Kapur'Mr. India' tells the story of a poor but big-hearted man (Anil) who gives shelter to orphans. After discovering his scientist father's invention of a device that would make its user invisible, he fights to save the children and the country from a villain named Mogambo, an unforgettable portrayal by late actor Amrish Puri.
tag cult classic, Mr India will be there among the top contenders. A film that never loses its rewatch quotient, no matter how many times you have seen it, Mr India remains the best superhero film India has made
Anil dedicated the 32nd anniversary to Veeru Devgan, the stunt director for the iconic film who passed away on Monday. Anil, who played invisible man Mr India in the movie, posted a collage of stills from the film on Twitter, with a heartfelt note.
#MrIndia was made iconic by its children friendly action scenes & Veeru's Midas touch. I want to dedicate its 32nd anniversary to the man who made these unforgettable moments possible. #VeeruDevgan was an amazing man & I'm lucky to have worked with him. He is sorely missed… pic.twitter.com/jdw1w6ULtI

— Anil Kapoor (@AnilKapoor) May 29, 2019
On this special day, we bring some memorable unknown trivia of the cult classic for fans.
Here are some lesser Known facts about Mr. India
1. Anil Kapoor was reportedly not the first choice for the lead role of Arun Verma aka Mr India. Neither was iconic superstar Rajesh Khanna. The makers wanted Amitabh Bachchan but he was into politics those days.
2. For the negative role of Mogambo, the makers wanted Anupam Kher. But Amrish Puri went onto play the iconic character.
3. Sridevi was reportedly paid Rs 11 lakhs for her role in the film,  making her the highest paid actress those days.
4. Future actors like  Aftab Shivdasani, Karan Nath, and choreographer Ahmed Khan had played child artistes in the film.
5. Aamir Khan, interestingly, wanted to be an assistant director for Shekhar Kapur during the shoot of the film.
6. During the scene where Arun and Seema get scared of a cockroach, Shekhar Kapur had reportedly spilt whiskey on the insect to make it stand still!
7. For the "Kaante Nahi Kaththi" song, Boney Kapoor had challenged Shekhar Kapur to make Sridevi look more sensuous than her appearance in Jaanbaaz song 'Har Kisi Ko'. The result was smoking Hot.
8. Mr. India was included among one of the 100 Greatest Indian Films of All Time, on the centenary of Indian Cinema.
9. The Boney Kapoor production also inspired remakes in Tamil in K Bhagyaraj's 'En Rathathin Rathame' and in Kannada as 'Ambareesh's Jai Karnataka'.
10. It was the last mainstream Bollywood movie that Shekhar Kapur did.
11. Satish Kaushik, who plays the iconic character Calendar, was also Chief Assistant Director for the film.
Boney Kapoor who had produced 'Mr. India' planned to make the sequel with Anil Kapoor and Sridevi reprising their roles. After years of speculations, the project was dumped following the untimely demise of Sridevi in 2018.
Also Read: Anil Kapoor gives epic reply to all the memes doing rounds about his age; details inside