MS Dhoni Is Dad Goals In THESE Adorable Moments With Daughter Ziva
Ziva Dhoni was born in 2015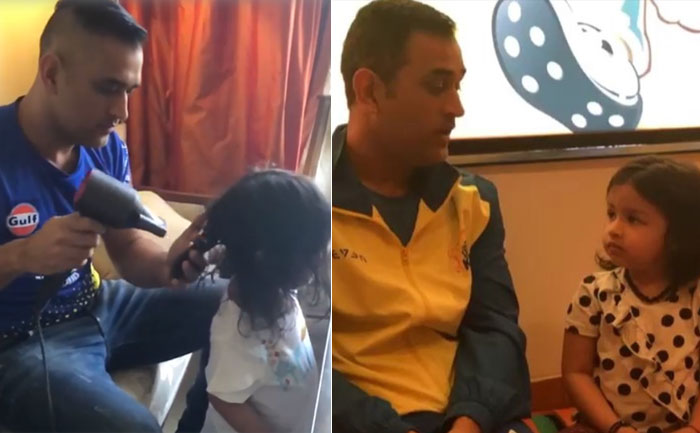 MS Dhoni has set a number of records on the field and now he seems intent on setting some serious dad goals with his daughter Ziva. The father-daughter duo is often seen spending time together. Born in 2015, little Ziva has daddy Dhoni wrapped around her little finger. Here are some of the most adorable moments of the two together.
MS Dhoni Is Dad Goals With Daughter Ziva
1. Captain Cool Turns Peter Rabbit
Ziva makes sure daddy is eating his veggies in this cute moment. MS Dhoni shared the short clip on his social media handle and fans can't get enough of it. Captain Cool happily lets his daughter feed him a carrot for this video. We got to say, the Peter Rabbit vibe does him good.
2. Ziva Is A Multilinguist And Daddy Dhoni Is Super Proud
Ziva is one smart kid and this video with proud dad Dhoni proves it. Here he asks his daughter 'How are you?' in six different languages and Ziva is quick to respond to each one. Dhoni is every bit a proud dad as he claps for his young daughter. Check out the video below.
3. Beach Day Out
Daddy Dhoni and Ziva go out for a fun day out as mommy Sakshi gets behind the camera to record the precious moment. The daddy-daughter duo is seen having fun as Mahi buries her feet in sand while Ziva flashes a toothy smile.
4. Dhoni Takes Ziva For A Spin
Ziva seems to share her dad's love for bikes. The adorable duo was seen enjoying a bike ride on their Ranchi farm. Sakshi shared the short clip online where Ziva and dad are seen zooming off. Ziva looks super cute with her cute headband as she clings to her dad from the backseat.
5. Dhoni and Ziva Bond Over Bikes
Ziva looks super happy as she gives race on a stationary bike. Looks like the kid has definitely inherited dad's love for bikes!
6. Daddy Duties
Dhoni is in full dad mode as he dries Ziva's hair. He shared the cute clip on Instagram. He captioned it, "Game over, had a nice sleep now back to Daddy's duties"