Watch: MS Dhoni spotted at Jaipur Airport in a brand new look
MS Dhoni arrives in Jaipur sporting a new look, pictures and videos go viral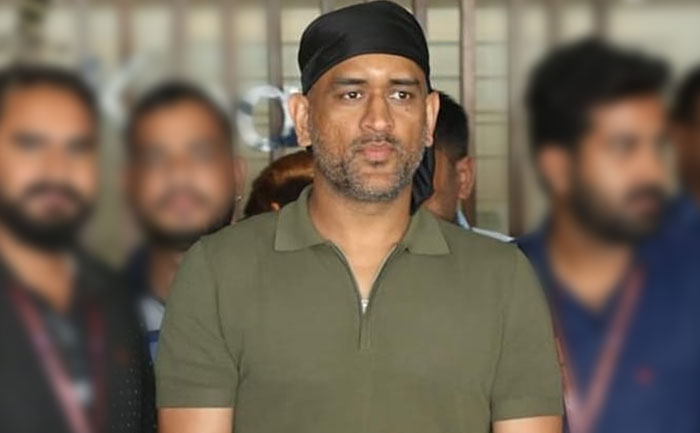 Mahendra Singh Dhoni is currently on a two-month break from cricket. The veteran, who holds an honorary position of Lieutenant Colonel in the Indian Army, had made himself unavailable for the ongoing India tour of West Indies to serve the Army in August. The 37-year-old, who holds an honorary title of Lieutenant Colonel in the Territorial Army, finished his stint with the army last week.
He was recently spotted at Jaipur Airport sporting a brand new look. Pictures and video of the much loved legendary player soon went viral on the internet.
Check out the videos and pictures here:
Dhoni had reached the Rajasthan capital to attend an event amid rousing reception from fans at the airport.
Dhoni is seen sporting a bandana and a stubble.
Check out the video here:
Dhoni spotted at jaipur Airport today. ?❤️ pic.twitter.com/GGQDhn4Wsl

— DHONIsm™ ❤️ (@DHONIism) August 24, 2019
In the video, the Ranchi lad is seen pleading with a fan to make way for him.
MS Dhoni was deployed in the Kashmir valley as part of Victor Force. The wicketkeeper-batsman stayed with the troops and took on the duties of patrolling, guard and post duty. He was in Ladakh, the new Union Territory, on the eve of India's 73rd Independence Day. Dhoni was welcomed by the Army personnel who also took him to the General Hospital of the Army where he interacted with the patients.
Not much is known about MS Dhoni's future after India's World Cup exit. But the 38-year-old is unlikely to retire from international cricket anytime soon.
Also Read: Shoaib Akhtar Chooses Virat Kohli Over Rohit Sharma, Calls Dhoni a LEGEND