Uttar Pradesh: Mulayam Singh Yadav visits party offices of son Akhilesh and brother Shivpal, leaves party workers confused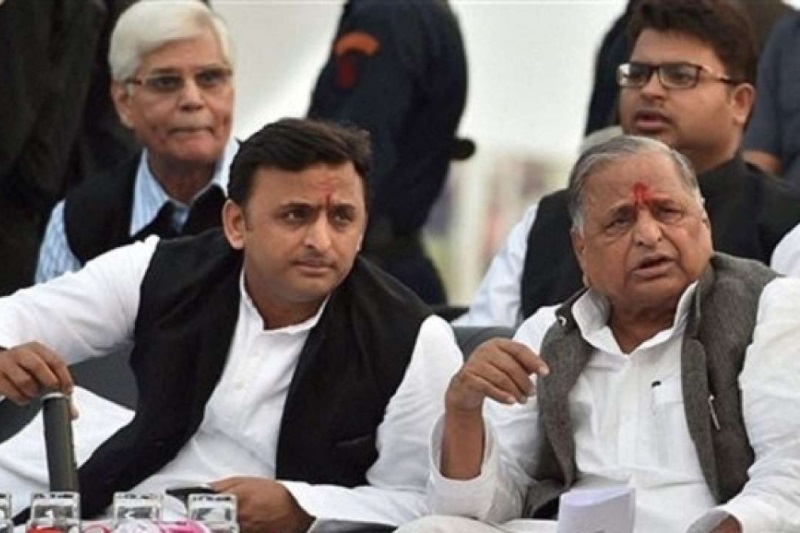 Amidst the ongoing family feud, Samajwadi Party chief and former Uttar Pradesh Chief Minister Mulayam Singh Yadav on Tuesday left everyone guessing after visiting the offices of son Akhilesh Yadav and the newly formed rebel party of his brother Shivpal Yadav.
Mulayam was first seen attending the function of Pragatisheel Samajwadi Party (Lohia), where he was even invited by his rebel brother to become the party's Prime Ministerial candidate.
He was also later seen attending meetings at the SP (Samajwadi Party) office – now headed by his son – a gesture that he supports his son.
This was the first time Mulayam visited the office of his brother's party office. But his decision to visit both the party offices has left the party workers in dilemma as to which party support ahead of the crucial 2019 Lok Sabha polls.
"We have been left wondering with whom Netaji's (Mulayam) sympathies lie and which party to work for," an SP party worker was quoted as saying by PTI.
This comes a month after Mulayam's second son Prateek Yadav's wife Aparna Yadav had openly expressed her support to uncle Shivpal Yadav.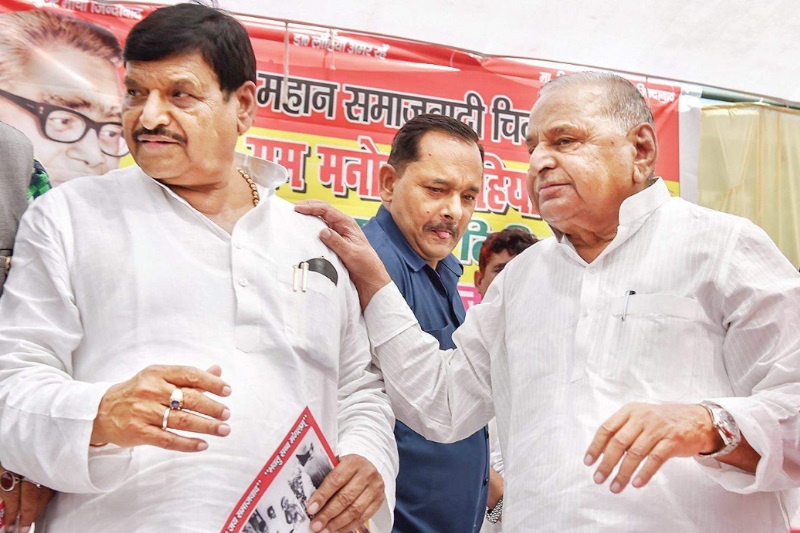 The report from the news agency states that Mulayam first reached the office of his brother's party at Lal Bahadur Shastri Marg. He also shared the stage with Shivpal, who urged him to become their Prime Ministerial candidate for the 2019 Lok Sabha elections and also the party president.
"We have a dream to see Netaji as the country's prime minister. It is yet to be fulfilled. Netaji will be our party's prime ministerial candidate," said Shivpal addressing his party workers.
He also attacked Akhilesh and said, reports the news agency, "Owing to backbiting and sycophants, Netaji was insulted. I was also insulted. Hence, I had to form a new party. We want to get Netaji's blessings as we respect him from the bottom of our hearts. The party is waiting for Netaji. We are confident that we will defeat the BJP in UP under his leadership."
"Whatever be the directives of Netaji, it will be followed. Almost 40 like-minded parties are supporting us.
"We have formed the party with the blessings of 'Netaji' to carry forward the Lohia ideologies," he added.
Also Read: Shivpal Yadav pleads Mulayam: Join us, contest from wherever you want
Mulayam though remained non-committal to the party's offers into making him their president and instead urged the people following the 'Samawadi' ideology.
"Samajwadi people should oppose injustice and take forward the Samajwadi (socialism) ideology," he said on the occasion.
Shivpal Yadav had launched Pragatisheel Samajwadi Party (Lohia) on August 29 after falling out with his nephew and SP president Akhilesh.
Interestingly, Shivpal is still an MLA from the Samajwadi party from the Jaswantnagar constituency and has still not resigned from his post or party post.
His party has received support from Akhilesh's elder brother Prateek Yadav's wife, who was present at the party meeting.
Mulayam then visited his party's office, which is now headed by his son Akhilesh. He was reported to have held a few meetings with the party workers there and guided them on how to win next year's Lok Sabha elections.
Shivpal was reported by News 18 to have confirmed that his front will contest all 80 Lok Sabha seats n Uttar Pradesh, barring the one from which Mulayam is set to contest.