Mumbai: 5 killed, 2 injured including fireman in major fire at a high-rise residential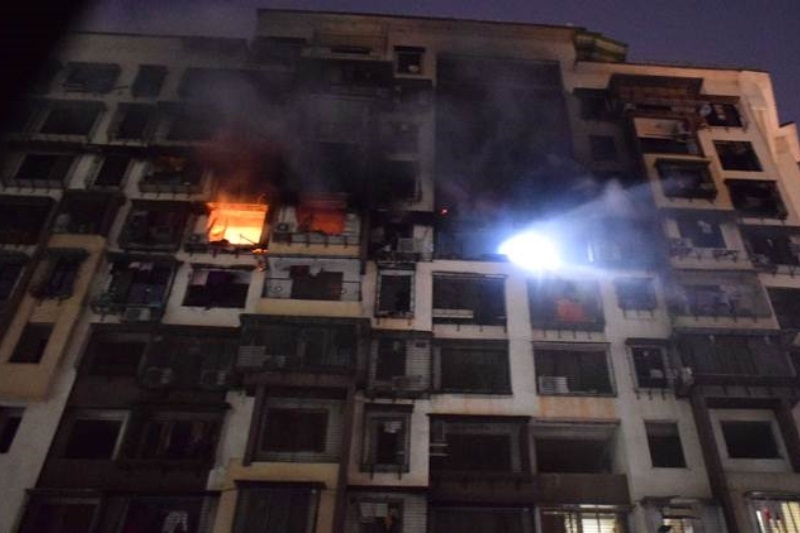 Five people died in a major fire that broke out in a 15-storey residential building near Ganesh Garden in Tilak Nagar on Thursday evening. All five deaths are believed to have been caused by suffocation and smoke inhalation.
The fire was reported to have started at around 7.50 pm on the 11th floor of B wing in Sangram society. Soon it spread to the 10th floor and while many residents vacated the building after 15 firefighting vehicles had arrived to douse the blaze, some were still stuck in the 14th and 15th floor of the building.
Things are under control now but the cause of the fire is still unknown and the investigation is currently underway. Reports claim that an LPG cylinder blast increased the velocity of the fire.
Four unconscious people were also found on the 11th floor by the rescue team who rushed them to the hospital but three were declared brought dead, while the other, Mr Shrinvas Joshi has been admitted. The deceased Sunita Joshi (72), Bhalchandra Joshi (72) and Suman Shrinivas Joshi (83) belonged to the same family. 83-year-old Lakshmiben Premji Gangar was the other senior citizen killed in the incident.
One fireman was also injured in the accident and has been admitted to the hospital. He is reportedly stable now.
"All three casualties seem to have caused due to smoke inhalation since there are no visible burn injuries. The 86-year-old patient who has survived the incident is in a state of shock. He hasn't suffered any burn injuries or internal complications due to smoke inhalation," Dr Divya Thakur, medical superintendent of the Rajawadi hospital was quoted as saying by The Hindustan Times.
This is, however, the fourth such incident reported in Mumbai in as many days. Earlier on the day, a level 3 fire had broken out at the basement of a beauty centre in Khar but no casualties were reported. Then in the evening, another fire broke out at the cloth factory in Kandivali's Damu Nagar where four people were killed.
Also read: 16 fall ill after fire lights Kolkata metro coach; passengers forced to escape through broken windows