Mumbai Mall Fire: 2 firemen injured, 3,500 people evacuated
Major fire at Mumbai's City Centre mall, 20 fire engines on spot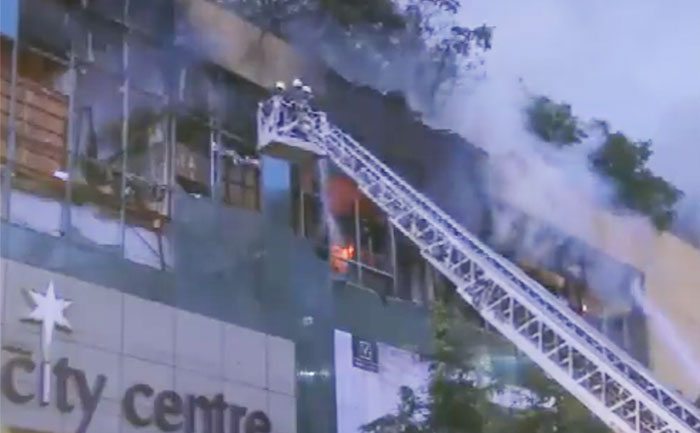 A major fire broke out at the City Centre mall in Nagpada, South Mumbai on October 22. The blaze erupted at around 8:53 pm on Thursday. More than 200-300 people were present inside the premises. From a level 1 fire it later escalated to level 3 and then level 5. Soon 24 fire engines, 16 jumbo tankers and 250 fire brigade personnel at the spot were trying to control the blaze.
#WATCH: Firefighting operation underway at a mall in Nagpada area in Mumbai where a fire broke out last night.

It has been declared a level-5 fire. #Maharashtra pic.twitter.com/YDpgpRHXcm

— ANI (@ANI) October 23, 2020
Two firemen were injured as they received burn injuries during the operation. They were immediately rushed to Mumbai's JJ Hospital for medical treatment. People from the neighbouring Orchid Enclave building were evacuated with the help of police. Around 3,500 people were evacuated from the 55-storey building in Mumbai.
Yesterday nights video of City Centre Mall Mumbaj Fire, when fire just started.

Now whole 3rd floor is burnt. pic.twitter.com/aP5nCL9gYr

— Team Ruthless 😷😷 (@Ruthlessindia) October 23, 2020
According to fire brigade officials, the exact cause of the fire was not yet known. Locals said that the mall mainly houses shops selling mobile phone accessories. Efforts to douse the flames went on till Friday morning.
Major fire broke out City Centre mall, opposite Morland Road Thursday night. However, no casualties hv been reported.But it's believed, the fire may have caused a huge loss of property, as it was declared level 5 fire by #MumbaiFireBrigade #firebreak #CityCentreMall #MorlandRoa pic.twitter.com/1YAJuMKtGb

— Hema Singh (@hemasingh123771) October 23, 2020
Mumbai Mayor Kishori Pednekar and other officials visited the site on Thursday night to check the situation.
Also Read: Nashik: NCP leader Sanjay Shinde burnt alive after car catches fire