Amid Heavy Rain In Mumbai, At least 16 People Dead in Two Wall Collapse Cases
Many people died in wall collapses in Mumbai and surrounding areas.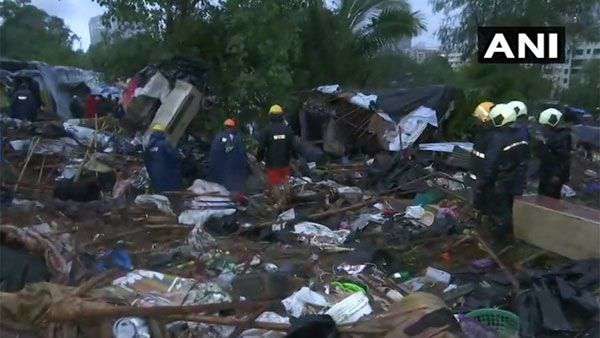 The Brihanmumbai Municipal Corporation (BMC) on 1 July requested Mumbaikars to be cautious and patient and said that this has been the highest rain spell in a decade.
The Maharashtra government declared a public holiday in Mumbai on Tuesday, 2 July, in the wake of heavy rainfall.
This immense amount of rainfall always have disastrous consequences. Same thing happened in Malad East and Kalyan. There was a Wall Collapse in both the places due to the heavy downpour.
At least 16 people were killed and another four were seriously injured when a wall collapsed in Malad East area. The tragic incident happened in the intervening night between Monday and Tuesday. The incident took place near a school in the Pompripada area. Several people are believed to have been trapped under the debris.
At the same time,16 people killed over 13 others injured after walls collapsed on hutments in Kalyan.
Teams from the National Disaster Response Force (NDRF), local fire department and police officials rushed to the spot to begin rescue operations, reported news agency ANI. Several of those injured in the incident have been admitted to local hospitals.
Maharashtra CM Devendra Fadnavis expressed his anguish at the incident and announced compensation for the families of those killed.
Heavy to Very Heavy rains expected in Mumbai & MMR in the next 3 days as per intimation received from IMD.

I request Mumbaikars to check weather updates & plan the day accordingly.

Take care, stay safe & reach out to us at @MumbaiPolice for help #MumbaiRainsLive #MumbaiRains

— CP Mumbai Police (@CPMumbaiPolice) July 1, 2019
Many such incidents of Wall Collapses have been recorded in Maharashtra. A Wall collapsed in Pune on Saturday.
Several incidents of tragic incidents have been recorded of Wall Collapses and Trees getting uprooted. Citizens should exercise caution because of the heavy downpours.
Also Read:  July 2nd Declared As A Public Holiday In Mumbai Due To Heavy Rainfall