Mumbai Airport's Main Runway Shut As SpiceJet plane Stuck, 54 Flights Diverted
SpiceJet Flight Overshoots Runway at Mumbai Airport While Landing Amid Heavy Rains, Main Runway Shut Till 6 pm.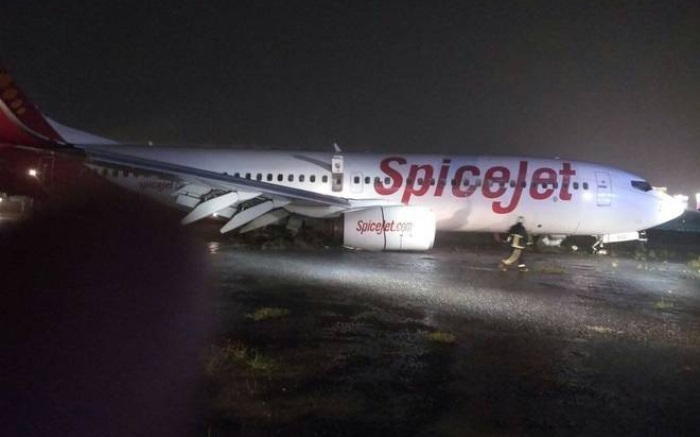 Mumbai rains are causing havoc with road,rail and air services being affected.The main runway at Mumbai airport will remain closed today till 6 pm on July 2, 2019. This happened after a SpiceJet flight overshot its mark while landing at around 11.45 pm yesterday. The plane, a Boeing 737-800, is still stuck at the end of the runway. A secondary runway is operational but flights are likely to be delayed.
As reported by a source to NDTV, "Spicejet SG 6237 Jaipur-Mumbai flight overshoots runway while landing at Mumbai Airport. All passengers are safe, no injuries reported". However, sources said that few passengers suffered minor injuries in the incident.
The SpiceJet incident, coupled with heavy overnight rainfall, forced as many as 54 flights to be diverted to nearby airports like Ahmedabad and Bengaluru.
Domestic airlines have posted messages on social media warning people of cancellation and delays.
Check them out here:
#6ETravelAdvisory: To check flight status, please visit https://t.co/Mj1tYZIvoE or send an SMS ST <flight no.><flight date> as DDMM, e.g. for flight 6E-333 for July 02, send ST 333 0207 to 566772. pic.twitter.com/KkzcTmbf32

— IndiGo (@IndiGo6E) July 1, 2019
#Update1 pic.twitter.com/jsdmVZ6lVn

— Vistara (@airvistara) July 2, 2019
Mumbai has received 540 millimetres of rain since Sunday night – the highest over a two-day period in the last decade.
The city is set for more downpours in the next 24 to 48 hours. Private weather agency Skymet said Mumbai is at "serious risk of flooding" between July 3 and 5, warning that "close to 200 mm or more rain per day is likely during this period".
The Maharashtra government has declared a public holiday today in Mumbai as a precautionary measure following the incessant rain.
Meanwhile, rail services have also been affected by the rain. Several suburban and long-distance trains were cancelled after tracks were flooded. Both Central Railway and Western Railway tweeted details of cancelled and rescheduled services. Western Express highway is also flooded causing a traffic jam.
Also Read: Mumbai rains updates: Local trains cancelled, waterlogged streets