Mumbai: Part of Tilak Bridge falls, no casualties reported
Portion of Dadar's Tilak bridge in Mumbai falls, BMC still preparing contract for its repairs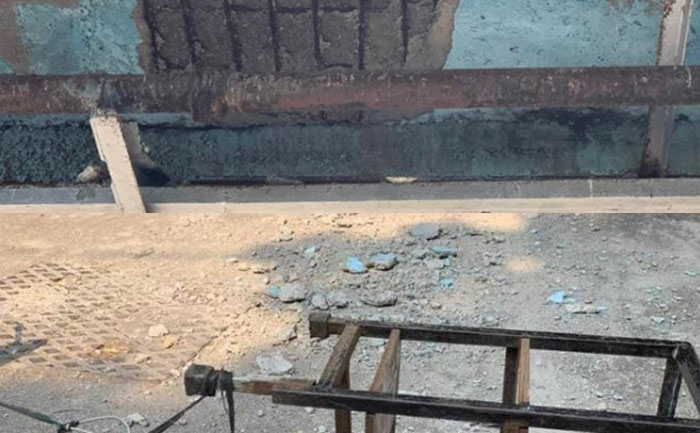 A portion of Tilak Bridge in Dadar fell on the road below on Wednesday at 2 pm. The bridge has been marked in the major repairs category in a structural audit report. Therefore the Brihanmumbai Municipal Corporation(BMC) was preparing a contract for its repairs.
According to Mid-Day, no casualties were recorded in the incident that took place on the east side of the Hindu colony. The area was barricaded and traffic halted for some time under the bridge whereas the traffic movement over the bridge was unaffected.
Speaking to Midday Gajanan Bellale, the assistant commissioner of F North ward said, "Around 1 square metre of a slab fell in the afternoon. Officials from Bridges Department and structural auditors went to the spot to examine it. However, they later realized that the part of the bridge that fell comes under F North ward."
#मुंबई: १०० वर्ष जुन्या टिळक पुलाचे प्लास्टर कोसळले, या घटनेत कोणीही जखमी झाले नसून पुढील चार दिवसांत दुरुस्तीचे काम करण्यात येईल, असे पालिकेच्या पूल विभागाने स्पष्ट केले आहे. #Dadar #Tilakbridge pic.twitter.com/XXJbXLRJy5

— Indbatmya – Indsamachar Marathi (@indbatmya) November 14, 2019
He added, "The bridge is under major repairs category. We can't demolish and reconstruct it as of now. So it will undergo structural repairs. It will increase the life of the bridge."
The bridge was constructed in 1923 by the British and has been in a poor condition for many years. It has been a subject of debate in the BMC for long now. Shiv Sena corporator Vishakha Raut, had also raised the safety issue of the bridge many times.
Also Read: Bhim Army wants to rename Dadar station as Chaityabhoomi