Mumbai Rain claims lives of four, trains and traffic badly affected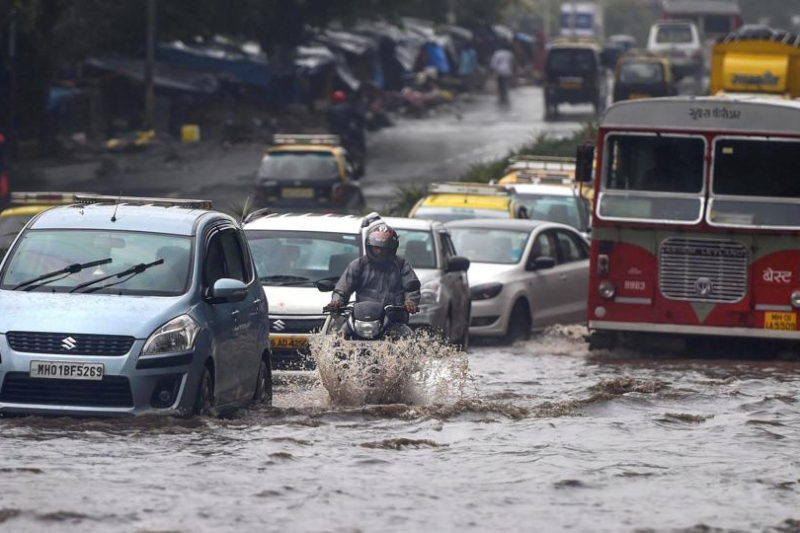 A 15-year-old boy was among four people killed in Mumbai city and Thane district after heavy rain lashed Mumbai since Sunday evening. The rail and road traffic was disrupted during rush hours, officials reported on Monday. The two men were killed after a tree collapsed near Fashion Street in South Mumbai last evening, while the 18-year-old died after he fell into a manhole near Evershine Nagar in Malad (west). Nagendra Nagarjun, an 18-year-old boy, fell into a manhole near Evershine Nagar in Malad (west) and drowned on Monday morning. He was pulled out and taken to a hospital, where he was declared brought dead.
Kiran Ghaywat, 15, died after a portion of a wall of a sewerage treatment plant at Vadolgaon, near Ulhasnagar in Thane district, collapsed on their house late last night. Meanwhile, a wall at an upscale Mumbai complex collapsed this morning in Wadala, crushing at least 15 parked cars after incessant rain. Visuals from 32-storey Lloyds estate in Wadala's Antop Hill showed several cars stuck in debris. No one has been hurt and all residents are safe, a civic official said. The India Meteorological Department's (IMD) Mumbai office has said heavy rainfall will continue in some parts of the city and its suburbs after similar conditions over the weekend.
Waterlogging is expected in several areas including Dadar TT, Kabutarkhana at Dadar, King Circle, Nagpada, Santacruz (East) and Marol Maroshi Malabar Hill, Hindmata, Dharavi, Byculla, and Andheri subwa
The rains that have been lashing the city over the weekend caused a delay in services on the Western Railway due to a track failure near Bandra station.
"Local trains are running late by 5-10 minutes due to a technical problem at the Bandra station. Inconvenience is regretted," Sanjay Mishra, divisional railway manager, said on Twitter.
The Western Railway also said trains have been delayed due to low visibility in some areas because of the rains. All mail express trains are expected to reach late at Bandra Terminus, Dadar Terminus and Mumbai Central due to the heavy rain between Virar and Surat.
Waterlogging was reported at Sion station but trains were running on all the three lines, Mainline, Harbour and Trans-harbour, of the Central Railway with a delay of five to seven minutes, Central Railway's spokesperson Sunil Udasi said to PTI.
"Synoptic analysis indicates that the offshore trough at mean sea level runs from south Gujarat coast to Kerala coast. A cyclonic circulation lies over south Konkan and its neighbourhood and another cyclonic circulation lies over north Konkan and adjoining south Gujarat," the official explained, as per PTI.
"The intensity of rainfall is expected to decrease on Monday and only South Gujarat, Konkan and Goa may experience isolated heavy rainfall," he further said
Image Source/ Hindustan Times