Mumbai Rains: Massive flooding after heavy rain, strong winds batter City
Mumbai Rains: Intense spell results in heavy water-logging and flooding in low-lying areas of island city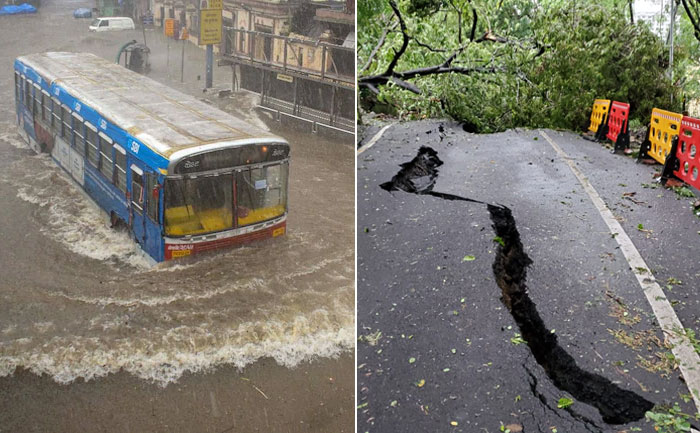 Mumbai has been facing the wrath of monsoon for the past couple of days. But yesterday the city and its metropolitan region were battered by cyclonic winds and torrential rainfall. They caused flooding in the low lying regions, uprooted trees, and other destruction too. The cyclonic wind and rain drew warnings from the city police and Maharashtra minister Aaditya Thackeray, who asked the people not to venture outdoors.
While we've asked all to stay home, the police and urban/ rural local bodies staff are on streets and are braving the stormy rains.
Please stay home and stay put wherever indoors you are across the entire belt receiving rains

— Aaditya Thackeray (@AUThackeray) August 5, 2020
The city received the heaviest one-day rainfall in 47 years
This is scary and serious, Mother Nature and her fury #mumbaifloods #mumbairain stay safe ..🙏🏻 pic.twitter.com/QXwkpl7Peo

— S.Badrinath (@s_badrinath) August 6, 2020
Photos on Twitter gave glimpses of the damage, which included roofs and sun shades flying off, overturned cars on roads, and falling trees.
Surprisingly Indian media hasnt blamed Pakistan yet.#mumbaifloods #Crane @RT_com https://t.co/AQ1zX6Vds5

— AayZee (@AmmSyed) August 6, 2020
PTI reports, Three high capacity cranes deployed at the Jawaharlal Nehru Port Trust in adjoining Raigad district collapsed due to gusty winds in the afternoon, there was no casualty.
#mumbaifloods visuals of Mumbai floods.
Praying for my near and dear♥️🙏🏾
This too shall pass..#2020worstyear pic.twitter.com/9UrsQcBVkZ

— Akanksha Gupta (@Akanksha_gpta) August 6, 2020
In the evening, the meteorological department said the wind speed at Colaba increased to 107 km per hour.
The weather office also said that extremely heavy rainfall is likely to continue. Mumbai and its adjoining areas will have rain and winds with speed reaching up to 70 km per hour till morning.
Also Read: Mumbai Rains: Landslide in Western Express Highway, no casualties