Mumbai Saga Movie Review: John Abraham-Emraan Hashmi Rock In Edge Of Seat Drama
Mumbai Saga Movie Review: John Abraham-Emraan Hashmi Face Off In This Intriguing underworld drama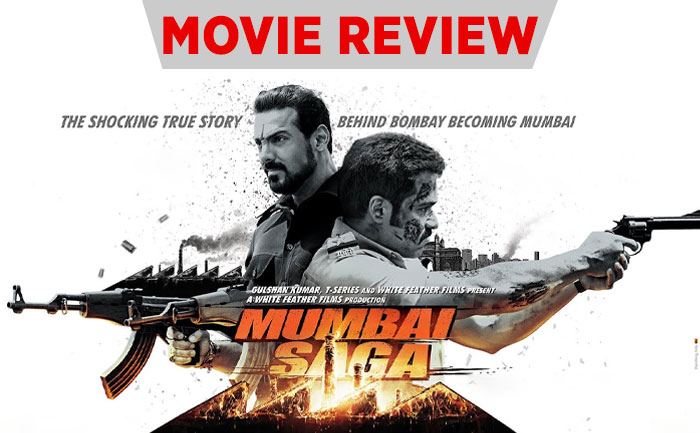 DIRECTOR: Sanjay Gupta
RUNTIME: 2h 15m
CAST: John Abraham, Emraan Hashmi, Suniel Shetty, Kajal Aggarwal, Rohit Shetty, Anjana Sukhani, Mahesh Manjrekar, Prateik Babbar, Samir Soni, Amole Gupte, and Gulshan Grover
STORY: Based on true events, 'Mumbai Saga' is the story of a commoner-turned-gangster Amartya Rao, whose dramatic rise in the Mumbai of the nineties was marked by lawlessness, betrayal, and bloody gang wars.
STARS: 3/5
Director Sanjay Gupta is back with some more gangster drama and fans love it. 'Mumbai Saga' is inspired and based on true events of the early 90s. It was when Mumbai known as Bombay was ruled by the underworld.
After 'Shoot-Out at Wadala' Bollywood hunk John Abraham has once again donned the look of an underworld don. This time around he is playing the role of Amartya Rao. Emran Hashmi has nailed the look of a cop, out for Amartya Rao's head. The duo has given fans one of the genuinely enjoyable massy Bollywood action dhamaka.
Amartya Rao (John Abraham) is a peace-loving person. But when his younger brother, Arjun is attacked by Gaitonde (Amole Gupte) goon, he decides to take power into his hands. As he takes over Gaitonde's throne, Rao gets the support of a local politician, Bhau (Mahesh Manjrekar), and soon takes over Mumbai. But when Rao kills an industrialist (Samir Soni), his problems begin. Samir's wife (Anjana Sukhani) places a reward of Rs 10 crores to kill him. Vijay Savarkar (Emraan Hashmi) a cop, takes the responsibility of bringing down Rao.
Will Vijay be able to end Rao's hold over Mumbai? To know this and more watch the gangster drama.
'Mumbai Saga' boasts of well-choreographed action sequences to which the lead actors do full justice. John Abraham as the underworld don does manage to ace the action sequences. But he still lacks in the field of emotional scenes. Emraan Hashmi as a ruthless police officer has done justice to his role. Fans will be a tad disappointed as there are not many face-offs between John and Emraan in the film.
Mahesh Manjrekar, Amole Gupte, and Rohit Roy are top-notch. Gupte brings a sense of humor to his scenes, Manjrekar aces as the shrewd politician. Rohit and Gulshan Grover also leave you impressed. Kajal Aggarwal and Anjana Sukhani are ok.
Sanjay Gupta has once again managed to capture the attention of the audience with his directorial skills. Shikhar Bhatnagar's cinematography does justice to an action film. Robin Bhatt's and Sanjay's screenplay could have been tauter. The music adds to the story.
All in all, watch it for John Abraham and Emraan Hashmi. For after a long time we have a film that is massy.
Watch the trailer here:
Also Read: Mumbai Saga Teaser: John Abraham- Emraan Hashmi Come Together For Years Biggest Saga