Mumbai sees first heavy rains of season; water logging in some areas
Mumbai drenched in rains, parts of Juhu, Vikhroli, Vile Parle, Andheri and Thane face water logging issues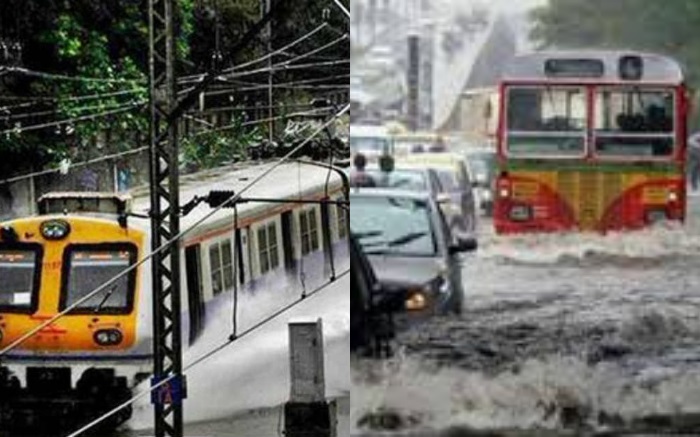 Finally Monsoon has arrived in Mumbai and its neighboring region. Yes, the city woke up to dark skies and heavy downpour on Friday morning giving Mumbaikar's much needed relief from the sultry heat. This is the first significant rainfall received after the arrival of the rainy Season from June 25.
Heavy rainfall was recorded in Juhu, Vile Parle, Mulund and many other places. On the outskirts Vasai, Virar, Titwala too received heavy rainfall.
Within an hour of rain fall water-logging was reported in Andheri, Western Express Highway, Sion, Powai, Mulund, Vikhroli. The residents of Mumbai were caught in taffic jams all thanks to the water logging issue once again. This is a bane of Mumbaikar's whenever Monsoon reaches the island city.
Here are some of the areas facing the issue at present,
So the rains have arrived in Mumbai and yet again the bmc hasn't done anything to stop water logging. The biggest municipal boards in India, has the biggest budget and still water logging. Shiv sena is leading the BMC and this is the state imagine when the have a cm.#MumbaiRains pic.twitter.com/k1nhlAFC3b

— Karan Gupta (@GuptaKaran971) June 28, 2019
Ah good old days. As usual #Juhu is drowning in #MumbaiRains. It seems @mybmc is just as prepared for the monsoon as #SouthAfrica was for the #CWC19 . pic.twitter.com/XcOHQacSwY

— Dhruv Bhatt (@DhruvRBhatt) June 28, 2019
Water logging in just 2 hours of rain … Wonder what is #BMC doing #MumbaiRains pic.twitter.com/zKx3p7RQoo

— Richa Patel (@RichaSPatel) June 28, 2019
#MumbaiRains #powai kailash complex . Pathetic already in 30 mins of rain pic.twitter.com/UhThc9flyn

— Shrikant (@_N3Xg3N_) June 28, 2019
The IMD has predicted moderate rains with a possibility of heavy spells in city and suburbs for for June 28-29.
We do hope the wet spell continues and the Drought situation will soon be under control.
Also Read: Indian Railways cancels 26 trains, diverts 9: Check out complete list