Mumbaikars are fed up and want to take civic authorities to task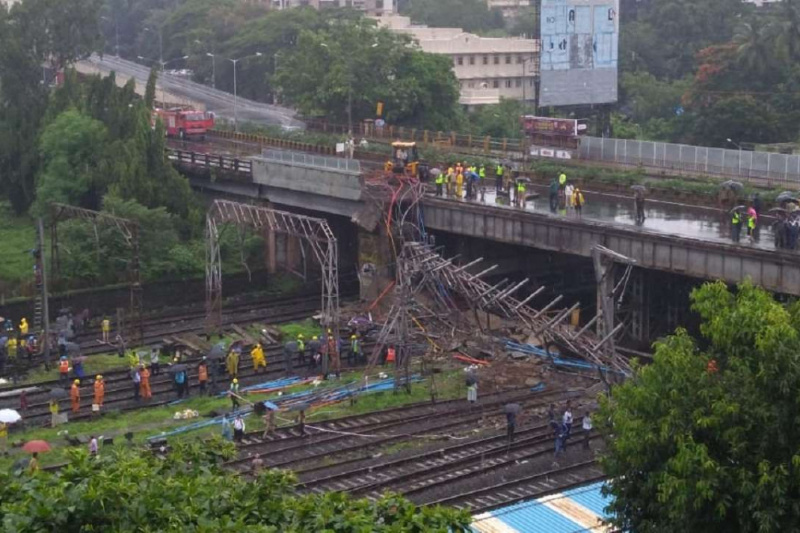 The spirit of Mumbai has been challenged again and although everything may seem fine for those sipping garam chai at home, the rains have created havoc once again today on July 3. It has been nine months since the Elphinstone bridge stampede that shook the maximum city, but today's incidents too took a heavy toll on the spirit of Mumbaikars. From bridge collapse, bus accident to fire at railway station to fire in a stationary local, today will go down in history as one of those black days for Mumbai.
We all are aware that the life in the financial capital is unstoppable. Be it the floods of 2005 or the horrifying terror attacks on 26/11, Mumbai has kept it together. But isn't this a wakeup call for authorities who wish to upgrade Mumbai? The people of Mumbai are being pigeonholed into believing that Mumbai has the best infratructure amongst all the metros, but the reality is a far cry from the claims of it. BMC, which is Mumbai's civic body happens to be the richest civic body in the world with an annual budget of Rs 27,258 crore as reported by Times Of India, on February 2, 2018. How long with the apathy of the civic bodies be taken in as the resilience of the citizens of Maximum City?
We take a look at what Mumbaikars have to say about the city being in shambles with just few days into the monsoons.
N. Chandramouli, CEO, TRA Research: Mumbai, and the citizens of the city who contribute to 30% of the income tax collected, have never got their due. Infrastructure in the city is dying. The suburban railways, on which the entire city depends upon, is overloaded and creaking, waste generated by the city is piling up in landfills and offices are built over old landfills. Every monsoon the city comes to a complete halt for at least 7 to 8 days due to bad roads, insufficient drainage cleanup efforts. And these are only a few things.
The onus of the upkeep of Mumbai is with the BMC, which is sitting on piles of money which are available for budgeted expenditure, but much of it lapses every year.
Even the few projects that get started never see fruition, or are left half-baked as they were ill-conceived or politically motivated. The corruption in BMC is legendary and you can be sure that nothing can be done without money passing hands. The decision-making in BMC for any new initiative is painfully lengthy and most often gets thwarted by vested interests. The political parties running the state and the BMC must directly accept their failures. I am sure no one feels safe with Mumbai's infrastructure. Falling bridges, caving building sites, entire building collapses have are normal happenings. We must also blame ourselves for electing wrong parties and candidates to power – we have stopped exercising our only weapon, the vote, judiciously.
Mumbai's spirit is wonderful and.positive. But the same spirit, can cause one to be over-acceptimg of the challenges around us.Change can happen only with an involved and interested citizenry. And it must begin with begin with the right vote and the right voice.
Darshani Jawale, Corp Comm Professional: The city is torn between the super- rich and the others. There's great disparity in the high class areas and the rest of the city. The crumbling infrastructure and poor waste management system are largely to be blamed. If you look around the high towers and plush corporate hubs the areas are usually surrounded by poor roads and poorly maintained sewage systems. Certain areas make you feel less like a humans and more like trolls living under dirty and dingy bridges.
The public transport in Mumbai is the biggest deterrent for women who wish to work in this city. The trains and buses are never on time and absolutely filthy. Even the main roadways are heavily congested, as every route is dug up for some construction at any given point of time. The Ubers and Olas do provide some respite but burn a hole in the pocket during peak hours and monsoon. As a matter of fact, the working class spends a great deal of productive time of their life, commuting and struggling the polluted and over populated transportations.
The collective apathy of people living in this city is to be blamed for it. We cannot just romanticize the western infrastructure and treat the city's infra as a hopeless cause. We could perhaps bring greater transparency in the working of the municipal corporation. A lot of us are unaware of the governing body and officials responsible for the maintenance of the city's infra.
We could also persuade the corporates to build corporate hubs on the outskirts on Mumbai, instead of building more offices inside the overcrowded city.
DJ Paroma: This is so unfortunate to have occurred, that too in the beginning hours of the day. So many people commute through it on a regular basis. The trains are the lifelines of the financial capital, and extremely thankful that there are no casualties reported yet, and I pray more power to the city and look forward to see things back to normal by tomorrow. Trust me Mumbai is Mumbai, we know by the end of the day how to revive out of difficult times and get back to normal routine the next day. We have alot of unsung heroes who are there to save the day. There are advances being made towards new infrastructure which is slow but steady, however, the future seems bright. I feel is safest to travel in Public Transport with crowd around you. We work in an industry where I do work at nights, and there are times I am alone. Safety for women always comes first to me and that's why I recommend extra security for women, however I also feel women should take up self defense classes as today women are being revamped as independent entities." "Travelling by Public Transport is usually extremely safe, and I can vouch for this being a Mumbaikar. Mishaps are a part and parcel of life, and I do salute the efforts undertaken by the government and roads and transport authority. We need more safety measures to be introduced however which match international standards, and I am sure this future is near us."
Jiten Soni, Photo Blogger: The city is truly in Shambles like every year as the roads are still of the same old quality, today its not safe to go anywhere as you might fear to fall in the loop holes down the road. We have to be blamed as we haven't taken a fight back to our life. We have to stand for humanity.
Pankaj Sabnani, Media Professional: This is not the first time that heavy rains have lashed Mumbai, but what happened today was very unfortunate. Having said that, I've given up on our authorities. I don't think they have the will to do any sort of constructive work. Every year it's the same story. I think it's high time we all should stop paying taxes.
Heena Shah-Dhedhi, Corp Comm Head and Blogger: Mumbai is in shambles only because the people aren't protesting. We take all the irregularities with a pinch of salt and go on with our 'Nothing Stops Us' attitude.
No, I don't feel safe at all in public transport. In fact I haven't used public transport in over 4 years. But I cannot escape being on the road and that's equally terrifying. The concerned authorities are to blame. Instead of fixing what we already have, new things are initiated and never completed on time. So everything remains below quality, inconveniencing us all.
Honestly I think the one time when we could have remodeled the city passed after the 2007 floods. But it's never too late. Correct everything that is wrong, illegal and hold contractors / developers accountable for any lack in quality and time gabs. That's the least that can be done for the financial capital of the country and the tax paying citizens of this city.