Murli Manohar Joshi, Sharad Pawar felicitated with lifetime Parlamentarian achievement award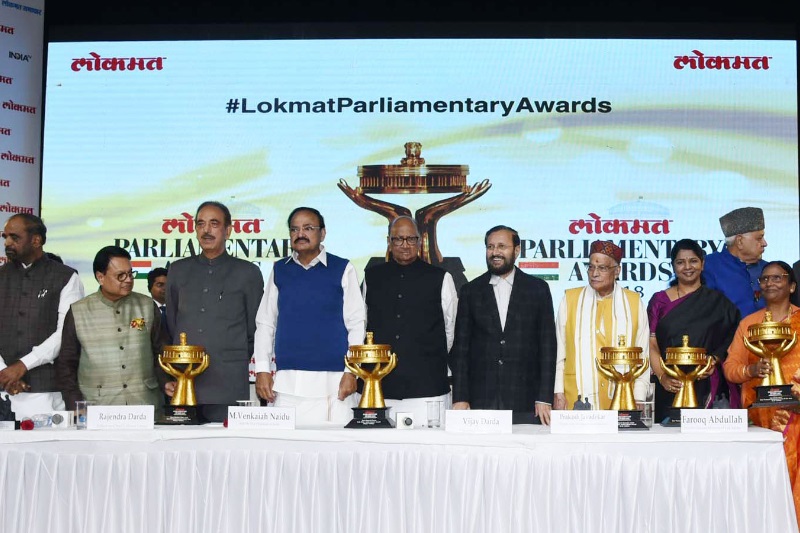 Senior BJP leader and former Union Minister Murli Manohar Joshi and NCP chief Sharad Pawar were among eight Parliamentarians, who were honoured on Thursday by Vice President Venkaiah Naidu for their contribution in strengthening Parliamentary democracy.
Senior BJP leader and former Union Minister Murli Manohar Joshi and NCP chief and former Union Minister Sharad Pawar were awarded with lifetime achievement award. The Best Debut Woman Parliamentarian award was given to Chhaya Verma while the Leader of the Opposition in Rajyasabha Ghulam Nabi Azad and BJP MP Nishikant Dubey were selected for the Best Parliamentarians award.
While actor-turned-politician Hema Malini was awarded for her outstanding work inside and outside Parliament as a first-time MP, LokSabha MP Rama Devi was selected as the Best Woman Parliamentarian. DMK leader Kanimozhi was presented the award for the Best Woman Parliamentarian in the RajyaSabha. The Lokmat Parliamentary Awards is the brainchild of Lokmat Media group chairman Vijay Darda.
Speaking on the occasion, Vice President Venkaiah Naidu said, "It is time now to act like a mature democracy as entire world is looking towards India. India also has become aspirational with younger generation. So I appeal to all the political parties to be concerned about effective functioning of the parliament."
Praising the parliamentarians, VP Naidu said they have ushered in new work culture through commitment and dedication and have been an inspiration to their counterparts. The vice president also used the opportunity to ask political parties to develop a code of conduct for their members to ensure that people's trust in the institution is not affected.
He suggested that the government in the opposition must see each other as rivals and must maintain decorum of the parliament. He also appealed to the media to play an objective role instead of being sensational.
"India is the only democratic country having constitutional democracy, free press, suitable law and order, cult absoluteness, secularism. This is the reason India will have long established democracy," said Joshi.
Whereas NCP chief Sharad Pawar said, "I have been a parliamentarian for over five decades and not even once I have been in well nor obstructed the business. That does not mean I have not made a point and my point has not been acknowledged".
Also Read: Delhi: Farmers' protest gaining momentum; Kejriwal, Sharad Pawar to address rally