Nagpur court issues notice to RSS chief Mohan Bhagwat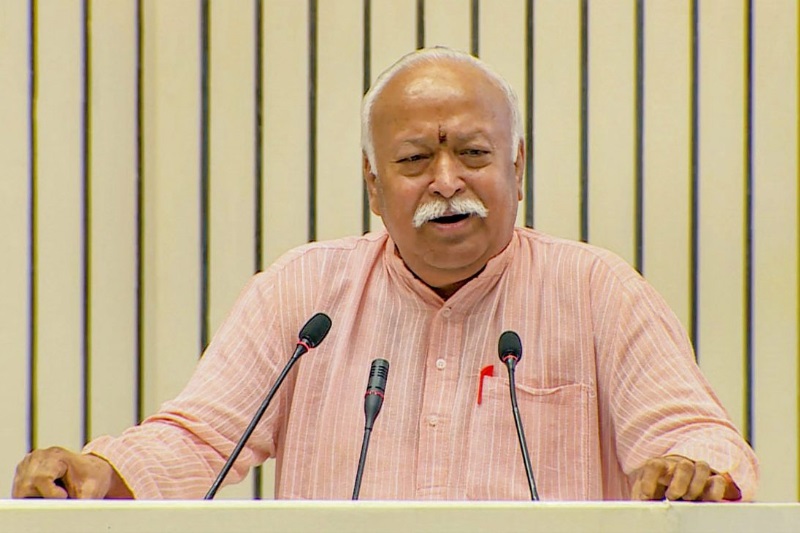 A Nagpur's session court on Thursday issued a notice to Rashtriya Swayamsevak Sangh (RSS) chief Mohan Bhagwat for displaying lathis at an event attended by former President Pranab Mukherjee at the Sangh's headquarters in June.
RSS chief Mohan Bhagwat has been asked to appear before the district sessions court in Nagpur on December 11. The court has also issued notices to the Fadnavis government and Nagpur police in the same case and asked them to appear in the next hearing.
Notably, Mohan Bhagwat is charged of violating police permission by displaying lathis at an event held on June 7. Before delivering a lecture at the RSS headquarters in Nagpur, former President Pranab Mukherjee had witnessed the "martial prowess" of Sangh cadres as they marched on Nagpur's Reshimbag ground.
According to the report in Telegraph, "The police had granted permission to hold the path sanchalan without any weapons. Around 700 swayamsevaks participated in the rally with lathis in their hands violating the ground for permission," said Mohanish Jivanlal Jabalpure, the petitioner.
Mohanish Jivanlal Jabalpure, who is a social worker, had approached the sessions court seeking action under the Arms Act against Bhagwat and RSS member Anil Bhokhare for using batons in public place.
Jabalpure told National Herald that he had earlier approached the Kotwali police station in Nagpur seeking action against Bhagwat and other RSS workers under the Arms Act. "I had complained to the offices of the collector and police commissioner that people in the route march were carrying lathis. I also filed an RTI with the police's Special Branch to know if the march organisers had permission to display batons," Jabalpure said.
"After I got the RTI reply, I approached the Kotwali police station over rules being flouted during the 'path sanchalan'," Jabalpure added.
However, a magistrate had earlier thrown away the petition, after which the Nagpur-based petitioner and social worker moved the sessions court.
Also Read: FIR against man for circulating morphed picture of RSS president Mohan Bhagwat on WhatsApp