Narendra Modi Birthday Special: 11 unknown facts of the charismatic leader
Here are some unknown facts from the legendary life of Narendra Modi that will leave you awestruck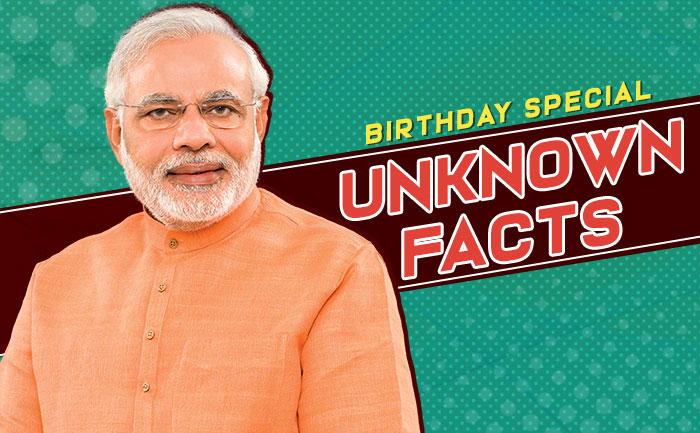 Prime Minister Narendra Modi will be celebrating his 69th birthday. His is a typical rag to riches story. He rose from being a humble Chai-wala to holding the top position as the Prime Minister of India, Mr Modi's life story is as enticing as any Bollywood film. The ex-chief minister of India is also a member of the Bharatiya Janata Party (BJP) and the Rashtriya Swayamsevak Sangh(RSS). You may think that you know all about the charismatic leader. But there are many facets of his personality and life that are known only to a few.
Here are some unknown facts of the 14th and current PM Narendra Modi:
1. Workaholic:
Modi is a staunch advocate of the adage, 'Work is Worship'. Throughout his service as the Chief Minister of Gujarat, he didn't take any leave. He propagates a similar philosophy to all his subordinates to date.
2. Sold Tea:
After seeking wisdom and guidance from the intellectual yogis, Modi decided to get back to the world and live a normal life. He began by selling tea in 'kulhads' at his uncle's canteen in Ahmedabad at Gujarat State Road Transport Corporation. A 'special tea' cost 2 annas and a 'normal tea' one anna.
3. Navratri Fasts:
He is a religious person and fasts for the entire nine days during the Navratri celebration. In the evening he just breaks his fast by eating just one fruit of his choice and then resumes the fast for the next day.
4. Ambidextrous:
He uses his left hand to eat with a spoon and writes with his right hand. Though he was born a left-handed person his zeal to use his right hand has transformed into an ambidextrous who can equally use both his hands.
5. No smoking or drinking:
Modi is a spiritual person. He lives a healthy and simple life. He doesn't believe in any kind of drug use to relieve stress or entertain himself. Also, he follows a strict vegetarian diet and practices yoga every morning without skipping.
6. Hit by Crocodile:
After his work in the canteen, he used to swim in the Sharmishtha lake which was near his house. He loved to swim all the way to a temple in the middle of the lake, touch the flag on its top and return to the shore. One day, he got hit by a crocodile's tail that left him with nine stitches on his left foot.
7. Crease-less clothes:
He is very specific about the choice of his clothes. First and last, his clothes are meant to be non-creased. Also, he wears most of his clothes that come from a textile factory called 'Jade Blue' which is located in Ahmedabad.
8. No Bribe:
He is the cleanest political person ever. When he became the CM of Gujrat, his mother just asked him to promise her one thing which was never to take a bribe. She had said, "Beta, kadi lanch na leis." (Son, never take a bribe.) Something that he still follows.
9. Mopped the Floor:
Narendra Modi used to mop the floor when he joined RSS. This was at the RSS headquarters in Ahmedabad.
 10. Leadership course:
Modi undertook a three months course in the United States. There he studied image management and public relations.
11. Skilled poet and photographer:
Narendra Modi possesses a flair for photography and poetry. He writes poetry in his mother tongue, Gujarati. He also got some of his works published in poetry. He also held an exhibition to showcase his photography skills.
This year on the occasion of his birthday. PM Modi will be visiting his home state Gujarat. As the Sardar Sarovar Dam is expected to reach full capacity soon, PM Modi will witness the milestone on his 69th birthday.
He will also visit his mother Heeraba and take her blessings.
Wishing PM Narendra Modi a Very Happy Birthday.
Also Read: PM Narendra Modi honoured with UAE's highest civilian award