Check Out: Indian & US Army perform on Assam Regiment marching song
Watch: American Soldiers singing Assam Regiment's marching song Badluram ka badan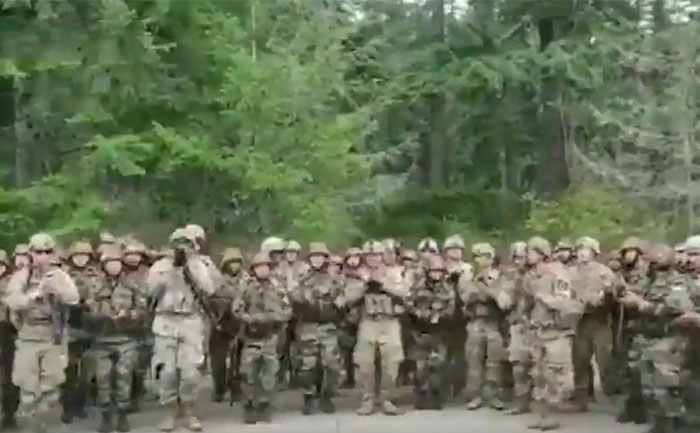 A video of Indian and American soldiers singing and dancing to popular marching song of the Assam Regiments marching song is viral. The video is from a recent joint military training exercise and has Indian and American soldiers singing and dancing to 'Badluram ka badan zameen ke neeche hai'. The song is dedicated to a rifleman named Badluram who fought against the Japanese during the 2nd World War.
Here is the video:
#WATCH Indian and American soldiers sing and dance on the Assam Regiment's marching song 'Badluram ka badan zameen ke neeche hai' during Exercise 'Yudhabhyas' being carried out at Joint Base Lewis, McChord in the United States of America pic.twitter.com/6vTuVFHZMd

— ANI (@ANI) September 15, 2019
In the video, we can see the soldiers cheering and dancing to the legendary song.
The viral video has been viewed over 19,000 times, has received 21, 500 likes and has been retweeted 5,800 times. It is from the ongoing 15th edition of the joint military training exercise of the Indo-US defence cooperation at Joint Base Lewis, McChord, Washington DC in the USA.
Yudh Abhyas is one of the largest running joint military training and defence corporation endeavours between India and the US. It began on September 5 and will continue till 18. The exercise is alternately hosted between the two countries. The exercise provides an opportunity to the armed forces of both countries to train in an integrated manner at Battalion level with joint planning at Brigade level.
For the uninitiated, Badluram was a soldier in the Assam regiment who was killed in World War II. His name had remained in the polls and his share of ration too continued to be doled out. When the Japanese got the better of the troops, they were left with no supplies and it was Badluram's share of the ration that was in abundance that helped the troops survive.
Also Read: Indian Army foils Pak commando operation; guns down 5 in Keran Sector