Narendra Modi: Congress burden on India, have destroyed nation like termites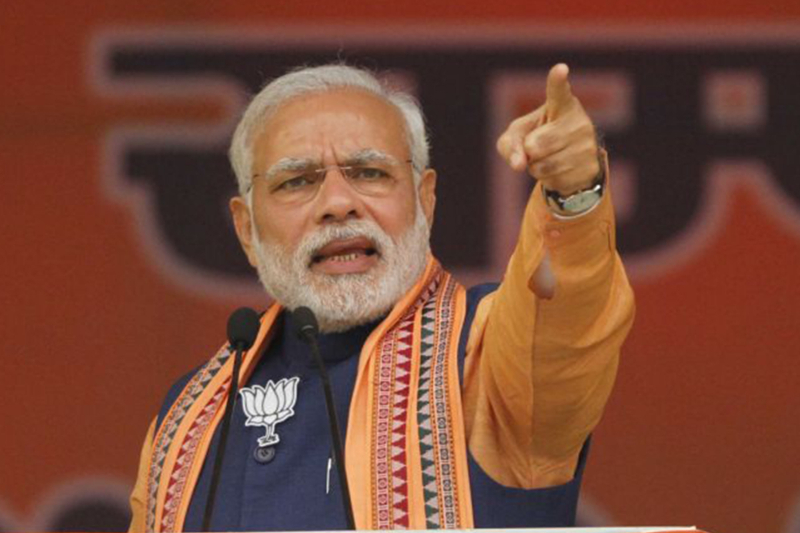 Prime Minister Narendra Modi on Tuesday attacked Congress party alleging that they have lost their directions and that is why they are looking for international coalitions to fight elections in India. The premier was of the opinion that the 125-year-old-party is a burden on India and it's high time people should get rid of it.
Addressing an Assembly election rally in Bhopal on Tuesday, PM Modi hit back at the Congress alleging that the party ruled for more than 70 years, but did not bother of development of the poor and the marginal sections of the society. Claiming that the vote bank politics have destroyed India in last 70 years as termites do, Modi reiterated that it is the responsibility of the Bharatiya Janata Party to protect from these 'termites'.
He said, "The vote bank politics in India has destroyed the nation in last 70 years as termites do. It is the responsibility of BJP to save the nation from them." He alleged that the UPA government at the Centre neglected the demands of the state. The premier said, "Till the time UPA was in power at Centre, they had hostility with the BJP-ruled states and the people. Now the time has come to teach Congress a lesson who had neglected Madhya Pradesh and its people."
Taking a jibe at the current situation of Congress, the BJP stalwart said, "The party which is 125 years old, which had numerous Governors…what happened that they (Congress) have to take the support of micro alliance whose presence is questionable. Even after this, Congress is not ready to improve." He added that Congress is making alliances with regional parties whom it earlier crushed under its feet due to the fear factor of BJP.
The 56-inch chest bearing politician stated that his party (BJP) do not fight elections on Dhan-Bal (money power), but Jan-Bal (People's power). He also gave one new slogan — Mera Booth, Sabse Majboot (My Booth, Strongest Booth). Reiterating his previous slogan — Sabka Saath, Sabka Vikas — the PM said, "The differentiation of privileged and marginalised won't help the nation to grow. We have to work for Sabka Saath, Sabka Vikas and the BJP is committed for it."
With this speech, Prime Minister started the election rallies of Bhartiya Janata Party in Madhya Pradesh, but his eyes were on the 2019 Lok Sabha Elections. He targetted the Congress in most parts of his speech, however, his speech was also a sign for the regional parties standing against the BJP. Assembly elections in Madhya Pradesh are just a couple of months away.
ALSO READ: Amit Shah: Opposition suffering from 'Modi phobia'