NASA's Mars 2020 rover stands on its own wheels for the first time
The rover is scheduled for a Mars mission next year.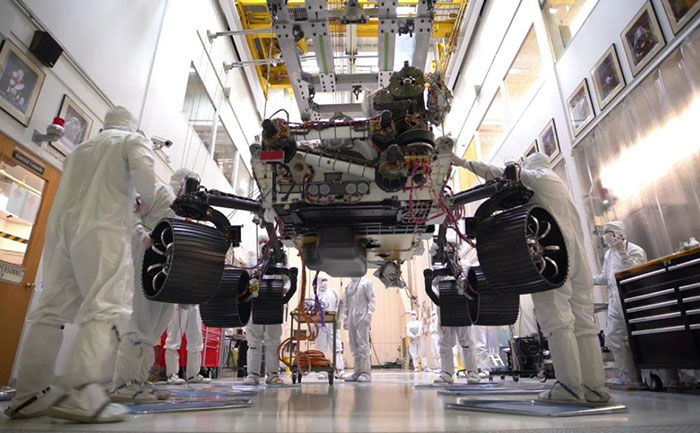 NASA's Mars 2020 rover took its full weight and stood for the first time on its wheels. The rover is scheduled for a Mars mission next year.
A mechanical systems engineer, Ben Riggs, said "After years of design, analysis and testing, it is fantastic to see the rover on her wheels for the first time. The whole team looks forward to seeing her in the same configuration on Mars in the not too distant future."
The current wheels of the rover are temporary engineering versions and will be replaced by flight models. These wheels are a more advanced version of the ones installed on the Curiosity Rover.
As well as assembling the various components of the rover, the tests also saw NASA technicians contemplate the idea of handling the near-vacuum and freezing temperatures of Mars.
The rover has titanium legs and the wheels are composed of aluminium, fitted with their own motors. To allow the vehicle a 360 degree turn, the front and rear wheels have separate steering motors.
The rover's "rocker-bogie" suspension system helps maintain a steady weight on each wheel while driving over uneven terrain. The rover will land at the Jezero Crater on Feb 18, 2012, making it the first spacecraft with the ability to accurately retarget its point of touchdown during the landing sequence.
NASA's Artemis Moon mission is aiming to taking astronauts to the moon by 2024 and develop a sustainable base on the moon by 2028. The results of this expedition will be used to prepare astronauts for Mars.
ALSO READ: NASA Unveils Two New Spacesuits For 2024 Moon Mission