Nation celebrates Mahatma Gandhi's 149th birth anniversary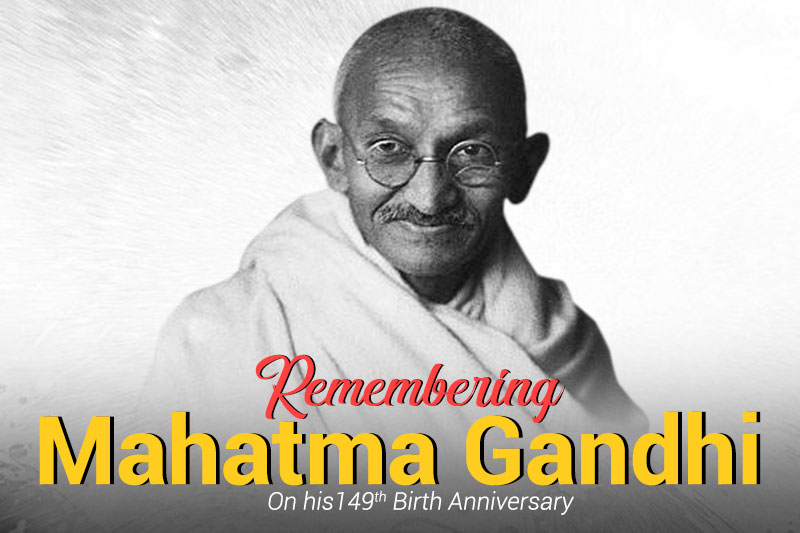 Mohandas Karamchand Gandhi born on October 2, 1869, is not just the 'Father of Our Nation', but also the man behind India's independence. Today the entire nation is celebrating his 149th birth anniversary with his noble ideas that motivates the millions across the globe.
Gandhi is admired worldwide for his philosophy of non-violence. Therefore, Gandhi's birthday is also celebrated as the 'International Day of Non-Violence'.
The Life Journey of Gandhi
Born and raised in a Hindu merchant family, Gandhi was a shy and an average student. Though he was married at an early age, he knew exactly what to do with his life. Gandhi studied law in London and practiced his profession in South Africa. Soon upon his arrival, he realized the first kickback of reality. He wasn't allowed to sit with the European passengers, kicked out in the gutter for daring to walk near a house and so it went on. He couldn't bear the racial discrimination and came back in India to change it forever.
Soon upon his arrival in India in 1915, he met Jawaharlal Nehru for the first time in Lucknow Congress. In 1917, Gandhi successfully led Champaran agitation in Bihar and by 1920 everybody knew who he was.
He then called for a non-cooperation movement that year, after incidents like the Jallianwala Bagh massacre and the Rowlatt Act. He started urging Indians to boycott British institutions and products. By 1930, he started building immense pressure on the British rulers to go back to their countries. He undertook Dandi march, fasted for 21 days in protest of untouchability and started 'Quit India Movement'.
Gandhi's rentless campaign led India get independence. But Jinnah's intransigence resulted in the partition of the country which led to communal riots between Hindus and Muslims. Gandhi worked ceaselessly to promote unity between Hindus and Muslims.
Mahatma Gandhi was assassinated on 30 January, 1948, in the compound of Birla House. His assassin was Nathuram Vinayak Godse — a right-wing advocate of Hindu nationalism and a member of the political party the Hindu Mahasabha.  Godse was a past member of the Rashtriya Swayamsevak Sangh (RSS), which he left in 1940 to form an armed organization. Gandhi's last word was 'Hey Ram'.
Paying tribute to Mahatma Gandhi on his death, famous scientist Albert Einstein said, "Generations to come will scarce believe that such a man as this walked the earth in flesh and blood".
Gandhi couldn't be a part of happy India for too long but his works and ideologies helped our country more than ever to walk on the road to success. He was a great believer in swaraj and equality among communities and castes.
Even after 69 years of his death, people mourn for him and follow his path towards cleanliness and non-violence, like PM Modi.
Modi's famous cleanliness campaign, Swacch Bharat Abhiyaan, is one of the initiatives that is inspired by Gandhi's ideology. He might not be alive today but he will always remain the Father of our Independent Nation.
ALSO READ: PM Narendra Modi Independence Day speech: 10 major takeaways