Nation pays tribute to Dr Babasaheb Ambedkar on 63rd Mahapariniravn Diwas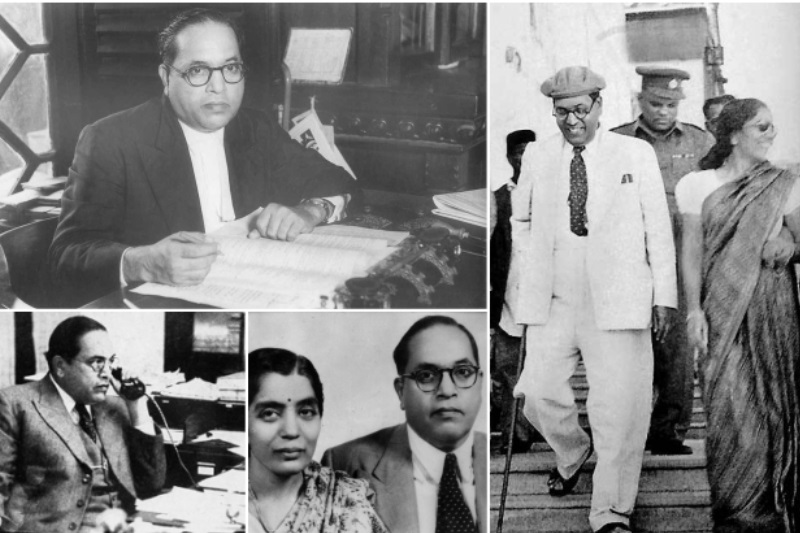 The soul that enlightened the world, strived for welfare of society brought revolution and ignited million hearts was none other than iconic Dr Babasaheb Ambedkar. The man who served society responsibly was carrying many titles being the architect of 'The Constitution of India', 'First Law Minister', 'Indian jurist', 'Social Reformer' and many more. Not just for 'Dalits', Ambedkar strived hard for 'Indians' globally.
Today, nation recalled the immortal Dr Babasaheb Ambedkar on 63rd death anniversary. President Ram Nath Kovind along with Vice President Venkaiah Naidu, Prime Minister Narendra Modi and other leaders of the country paid homage to Dr Babasaheb Ambedkar on 'Mahaparinirvan Diwas'.
President Kovind paid floral tributes to Babasaheb Dr B.R. Ambedkar on his Mahaparinirvan Diwas at the Parliament House Lawns in New Delhi. pic.twitter.com/sbWrgeMLdH

— President of India (@rashtrapatibhvn) December 6, 2018
Paying floral tributes to Dr. B.R. Ambedkar on the 63rd Mahaparinirvan Diwas, in New Delhi today. The nation is ever grateful to the architect of the Constitution. His wisdom will continue to guide us at all times. #BRAmbedkar pic.twitter.com/LjU4mKrkz4

— VicePresidentOfIndia (@VPSecretariat) December 6, 2018
#BabasahebAmbedkar recognised the principles of liberty, equality and fraternity as the principles of life. His lifelong fight for equal rights and opportunity for all made him a revered leader in India and the world. My respects to the Father of Indian Constitution. pic.twitter.com/nyDtNjHKSo

— Capt.Amarinder Singh (@capt_amarinder) December 6, 2018
Today, we honour a man whose legacy lives in the form of our Constitution. He fought for a just and equal society and left behind him an idea that we will always continue to uphold. B.R Ambedkar was the embodiment of respect, dignity & equality. pic.twitter.com/fJAGiWLxOk

— Congress (@INCIndia) December 6, 2018
संविधान निर्माता, भारत रत्न विश्व मानव बाबा साहब डॉ भीमराव अम्बेडकर के महापरिनिर्वाण दिवस पर कोटि-कोटि नमन। pic.twitter.com/UPPmiiWLaQ

— BJP (@BJP4India) December 6, 2018
'भारत रत्न' बाबासाहेब डॉ. भीमराव आंबेडकर जी को उनके 'महापरिनिर्वाण दिवस' पर कोटि-कोटि नमन। pic.twitter.com/UwzRevU5eO

— Yogi Adityanath (@myogiadityanath) December 6, 2018
भारतीय संविधान के शिल्पकार 'भारत रत्न' बाबा साहेब डॉ. भीमराव अंबेडकर जी को परिनिर्माण दिवस पर विनम्र श्रद्धांजलि। आइए, अंबेडकर जी के आदर्शों को आत्मसात कर सामाजिक भेदभाव को दूर करते हुए वंचित एवं शोषित वर्गों को मुख्यधारा से जोड़ने में महत्वपूर्ण भूमिका निभाएं। pic.twitter.com/WhfrjkV0Vz

— Vasundhara Raje (@VasundharaBJP) December 6, 2018
भारतीय संविधान के जनक, आधुनिक भारत के निर्माता आदरणीय बाबा साहेब को परिनिर्माण दिवस पर विनम्र श्रद्धांजलि। देश के सामाजिक, राजनैतिक, आर्थिक, सांस्कृतिक, शिक्षा, कानून जैसे क्षेत्रों में आपके अतुलनीय योगदान को कभी भुलाया न जा सकेगा।

— ShivrajSingh Chouhan (@ChouhanShivraj) December 6, 2018
भारतीय संविधान के प्रमुख रचनाकार व भारत के प्रथम कानून मंत्री, भारतरत्न बाबासाहब डॉ. भीमराव अम्बेडकर जी के महापरिनिर्वाण दिवस के अवसर पर उन्हें श्रद्धाजंलि अर्पित कर नमन करता हूँ।

बाबा साहेब द्वारा बताए गए संविधान के रास्ते पर चलकर ही देश प्रगति कर सकता है।#MahaparinirvanDiwas

— Sachin Pilot (@SachinPilot) December 6, 2018
My tributes & homage to #BharatRatna #BabasahebAmbedkar on Mahaparinirvan Diwas. The Nation shall forever be grateful to him for shaping our Constitution towards social justice.Let us follow the path shown by him to make India a soulful country ensuring equality n justice for all

— Ashok Gehlot (@ashokgehlot51) December 6, 2018
Functions are being held throughout the country to remember the architect of our constitution and champion of downtrodden. Lakhs of followers of Dr Babasaheb Ambedkar will also visit Chaitya Bhoomi in Mumbai to pay tribute to him.
Also Read: Ambedkar's great-grandson Rajaratna Ambedkar seeks ban on RSS