Bulandshahr violence: Yogi Adityanath meets slain police inspector's family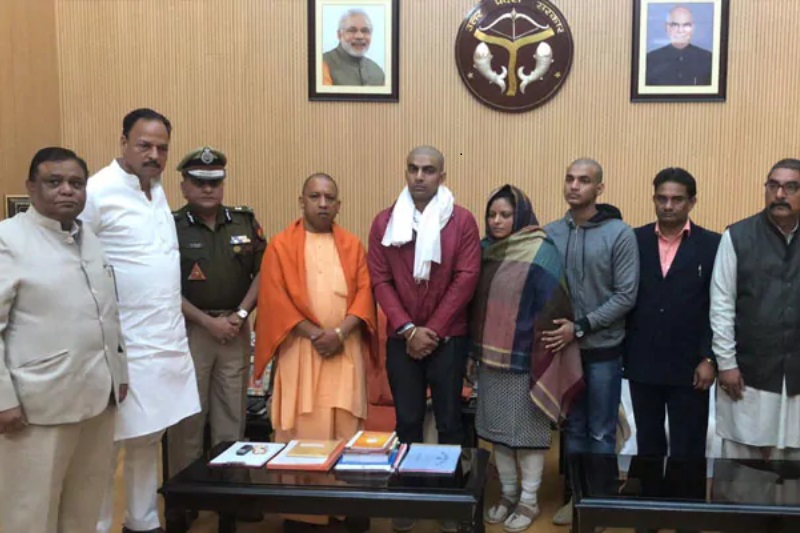 After three days of the brutal murder of police inspector Subodh Kumar Singh in Bulandshahr violence, Uttar Pradesh Chief Minister Yogi Adityanath met his family. The slain police officer survived by his wife and two children.
According to the report, the wife of Subodh Kumar and sons travelled to Chief Minister's home in Lucknow for the meeting, which took place following a massive criticism. It is to be noted that Yogi Adityanath did not mention the name of Subodh Kumar but focused on cow slaughter at a security review meeting.
Among the other decisions conveyed to the family was Rs 50 lakh compensation for them and a road to be named after Singh, said minister Atul Garg. The government is also considering naming a college after the slain police inspector.
"We met the Chief Minister and he has assured us that we will get justice", said Shrey Pratap Singh, son of inspector Subodh Singh.
On Monday, Subodh Kumar and his team were making efforts to control the angry crowd after cow carcasses were found in a forest. Later, mob lost control and hurled stones on policemen who were trying to pacify the crowd.
Uttar Pradesh Chief Minister has been criticised by opposition parties for attending a sound-and-light show at his home-base Gorakhpur later that evening, and a kabaddi event the next morning. A security review meeting took place only on Tuesday night, hours before the Chief Minister flew down to Telangana to campaign for the BJP for elections tomorrow.
At the meeting, Yogi Adityanath ordered immediate arrests for cow slaughter, but reportedly said nothing on the murder of the police officer. Prodded by condemnation on social media, the Chief Minister finally declared through his office that he would meet Subodh Kumar Singh's family.
The prime accused in the mob killing is said to be a Bajrang Dal Activist, who had reportedly complained about cow slaughter. As the police make other arrests, Yogesh Raj remains missing. Yesterday, he put out a WhatsApp video claiming he was not part of the mob and was not involved in the killing.
Also read: Bulandshahr: My father taught us to respect all religions, says Subodh Kumar's son