Navratri 2019: Kolkata will witness gold statue of Goddess Durga
This Navratri Idol of goddess Durga will be made of 50 kg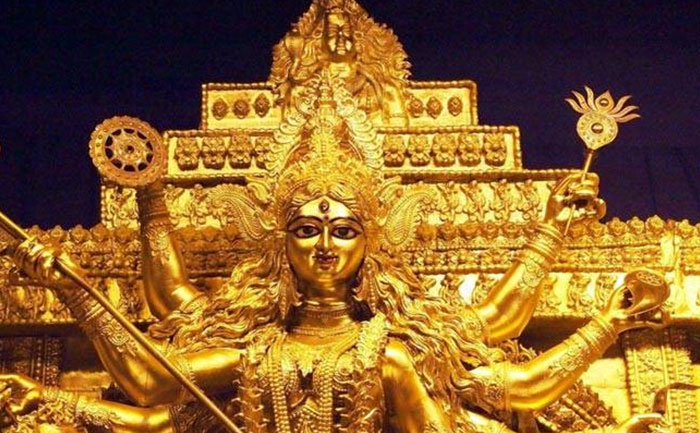 The excitement of the Navratri has started. Worshipers of Mother Durga are all set for the preparations of the festival. In 2019 the festival of nine nights will begin on 29th September, Sunday and end on 7th October. The occasion is enjoyed in many states of India with fervor. Kolkata is famous for celebrating Durga Puja. It is in the capital that people and tourists see the Festival of Navratri unfold in huge, decorated Pandals.
This year in Kolkata the idol of Mother Durga is made in 50 kg gold. The organizing committee has prepared it. The statue is 20 crore rupees. Every Navratri Durga Puja is celebrated in a magnificent manner. The goddess Durga is seated in the Pandals and later on immersed.
In Kolkata, the Durga Puja will start on 4th October. When the Durga Puja will begin, people will be able to see the statue. Currently, the work of the statue is said to be in the last stage. The statue will be 13 meters high.
"No one had ever imagined this gold statue. This is our Durga of Kanaka. Which has yellow metal from top to bottom. It weighs 50 kg." said committee chairman Pradeep Ghosh, which was reported by Livehindustan.com. 
The organizers of Santosh Mitra Square Pooja Samiti will not be doing this for the first time where there will be an idol purely made of gold. In 2017, the statue of Mother Durga was dressed in a gold sari where as in 2018 she rode on a silver chariot. Apparently, the organizers haven't paid for the gold but it is the jewelers who came forward to provide gold for the statue.
Also Read: Sharad Navratri 2019: Date, Time, Vrat, Significance And Colours