Navratri: Shiv Sena, VHP shut down 400 meat shops in Gurugram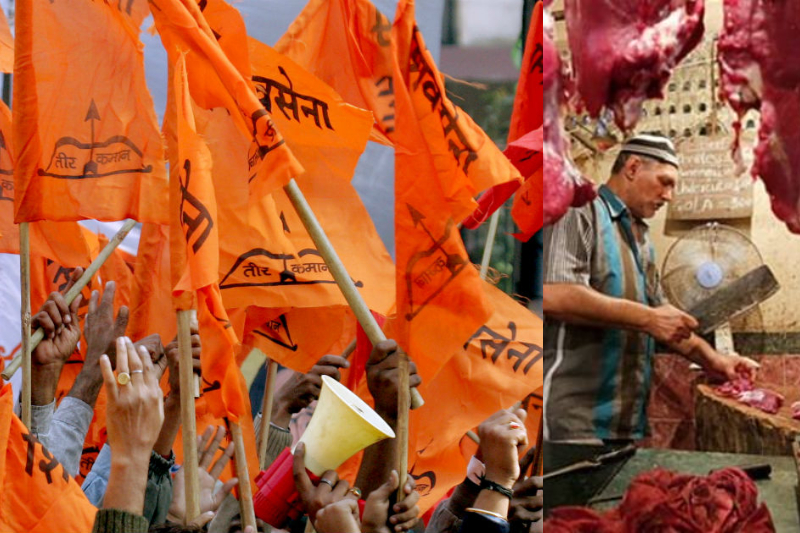 An organisation of 22 Hindu groups, including Shiv Sena (SS) and Vishwa Hindu Parishad (VHP) have forcibly shut almost 400 meat shops at several locations in Gurugram on Wednesday. They demanded all meat and shops be closed during Navratri — nine-night Hindu festival.
According to a report on October 10, at least 300 members of different Hindu organisations gathered at the Lord Shiva temple before heading for different places to shut meat shops.
The local claimed to have forcibly shut their shop after Sena workers gathered at Palam Vihar on October 10. They forcefully closed meat markets in Surat Nagar, Ashok Vihar, Sector 5 and 9, Pataudi Chowk, Jacobpura, Sadar Bazaar, Khandsa Anaj Mandi, Bus Stand, DLF area, Sohna and Sector 14.
Fearing Sena workers would create trouble, 50 per cent of the shops were already closed. This is not the first time, it happens every year during Navratri since the BJP came to power in 2014 at the Centre and in Haryana.
The Gurugram police have arrested four leaders of Hindu organisations during the march. An FIR has been registered against them under relevant sections of the IPC for disturbing peace. Further investigation is underway," Gurugram police PRO Subhash Bokan was quoted as saying.
State president of Hindu Sena Ritu Raj said, "The Hindu organisations will continue their effort throughout Navratri. The next target is new Gurugram where there are a large number of meat shops."
"Majority of the meat sellers used blinds to cover their shops. However, the Sena and other Hindu outfits have threatened to close them down too," sellers alleged.
"We have requested and served notices to every meat selling outlet to shut shop during Navaratri. This time we have not served notices to restaurants like KFC and other chains, as them serving chicken cannot be seen in the open," Shiv Sena's Gurugram in-charge Sanjay Thakral said.
The party workers have also asked owners of non-vegetarian food outlets to shut shop during the nine-day festival.
Asked if the meat shops were forcibly shut, DCP (crime) Sumit Kuhar said, "We are looking into the matter. No one is authorised to take law in their hands. We will not let anyone forcibly close down meat shops during Navaratri. If anyone wants to voluntarily close his shop, then it is up to him. We have directed all city SHOs to keep a watch on the situation." He said aggrieved persons must file police complaints in this regard.
There are nearly 1,000 meat and chicken shops in Gurugram.
Also read: Chhattisgarh: Rape accused fined Rs 30,000, panchayat uses it for mutton party