Navaratri 2019: Happy Navratri Wishes, Songs, Images, Quotes & WhatsApp Status
Send your friends, family members and beloved ones Happy Navratri wishes, songs, images, quotes and WhatsApp status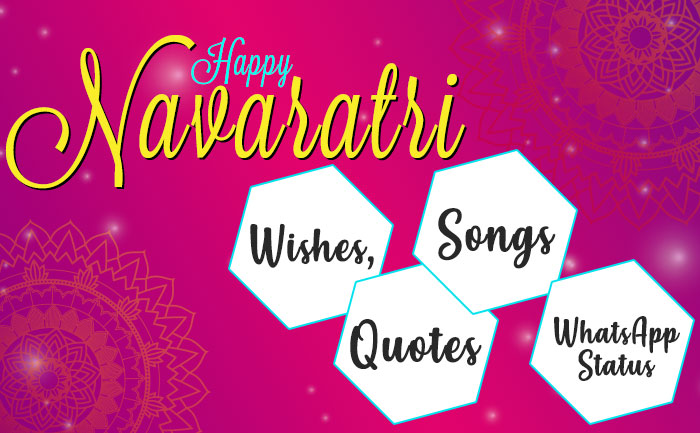 Navratri Wishes & Songs 2019:  The auspicious festival Navarati has finally arrived. This is one of the most popular and longest festivals we Indian celebrate. Yes, Navrati lasts for nine days and for making all the nine days memorable we have suggested shades of colour that falls on a specific day. The festival of Navratri marks the victory of Maa Durga over the buffalo-demon named Mahishasura.
The festivities of Navratri have already started with much joy and enthusiasm. The first and very basic practice we people do at every festival is to send wishes, messages, status, stickers and songs to our friends, family members and beloved one. So, why should we forget to send Happy Navrati wishes, songs, Whatsapp messages, quotes, photos and images to our friends and family members?
It is believed that there are four seasonal Navaratri. However, in practice, it is the post-monsoon autumn festival called Sharada Navaratri that is the most observed in the honor of the divine feminine Devi (Durga). This festival often falls in October or November months. Sharad Navratri 2019: Date, Time, Vrat, Significance And Colours
So, celebrate the Navratri festival with some beautiful and positive messages. We have brought you scores of Happy Navratri wishes, songs, messages and images to share with your family and loved ones. Without any further delay,' let's have a look.
Navratri 2019: Happy Navrati Wishes, Songs, Messages, Quotes, Images & WhatsApp Status
We have mentioned everything from Happy Navratri Wishes, Navratri Songs, Navratri Quotes, Navratri Images to Navratri WhatsApp status below.
Navratri Wishes
Lakshmi ka Hath ho, Saraswati ka Sath ho, Ganesh ka niwas ho, aur maa durga ke ashirwad se Aapke jeevan mai prakash hi prakash ho… Happy Navratri!
Here's wishing you a very Happy Navaratri. May you be blessed with good health, wealth, happiness, peace and prosperity. Happy Navratri!
Long live the tradition of Hindu culture and as the generations have passed by Hindu culture is getting stronger and stronger let's keep it up. Happy Navratri!
This Navratri, may you get rid of all the troubles and sorrow. May your life be filled with good health, wealth, peace and prosperity. Let us celebrate Maa Durga and all the goodness that she represents. A very happy Navratri to you and your family.
It is that time of the year when Maa Durga returns to the Earth from her heavenly abode. Let us celebrate her arrival and seek her blessings for a better future.
This Navratri, let us get inspired by Maa Durga and destroy all the evil that is within us. Let us hope and pray that the world becomes a better place for our future generations. Jai Mata Di.
Nothing can replace the peace and happiness that Maa Durga brings to our homes each year. Here's celebrating the victory of Maa Durga over Mahishasura, the demon who spread hatred. Let us celebrate the triumph of the good over the evil — a very Happy Navratri to you and your family.
With the blessings of Maa Durga, may you achieve success in all your endeavours? A very Happy Navratri to you and your family.
A new day is here again; perfect and untainted Make the best of it, spreading joy and unconditional love throughout… Happy Navratri!
Navratri is here with the festive atmosphere. Feel the spirit and have fun, As all the family celebrates as one. Happy Navratri to you and your family members!
Best Happy Navratri Wishes in Hindi
लक्ष्मी का हाथ हो, सरस्वती का साथ हो, गणेश का निवास हो, और मां दुर्गा के आशीर्वाद से, आपके जीवन में प्रकाश ही प्रकाश हो! चैत्र नवरात्र की शुभ कामनाएं!!!
हमारी ओर से आप सभी को …..चैत्र नवरात्रि की हार्दिक शुभकामनाएं।
या देवी सर्वभूतेशु मातृरूपेण संस्थिता। नमस्तस्यै, नमस्तस्यै, नमस्तस्यै नमो नमः। चैत्र नवरात्रि की आपको हार्दिक शुभकामनाएं।
Durga Maa ki jyoti se Prem milta hai, sabke dilo ko marm milta hai, jo bhi jata hai MAA Durga ke dwar, Usko Maa Durga ka Prem milta hai. Navratri ki hardik shubhkamnayen!
Ramji ki mahima Sita maa ka dhairya ..Lakshmana ji ka tej aur Bharat ji ka tyaag..  hum sabko jeevan ki seekh deta rahey… Happy Chaitra Navratri.
कुमकुम भरे कदमों से आए माँ दुर्गा आपके द्वार, सुख संपत्ति मिले आपको अपार, मेरी ओर से नवरात्रि की शुभ कामनाएँ करें स्वीकार!
इस नवरात्री आपके लिए नौ उपहार! सुख, शांति, समृद्धि, संस्कार, सफलता, संयम, सरलता, स्वस्थ्य, संकल्प!! दिव्य है आंखो का नूर, करती है संकटों को दूर, मां की छवि है निराली, नवरात्रि में आई है खुशहाली, शुभ नवरात्री
Happy Navratri Images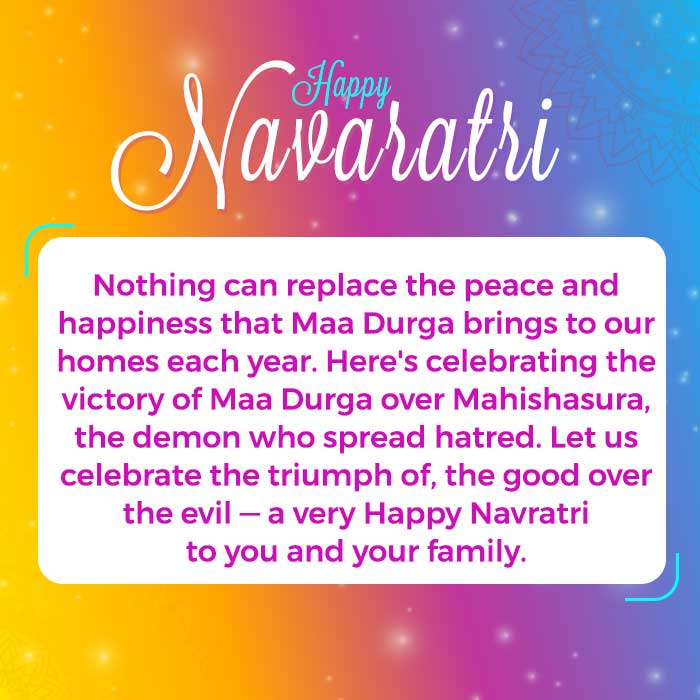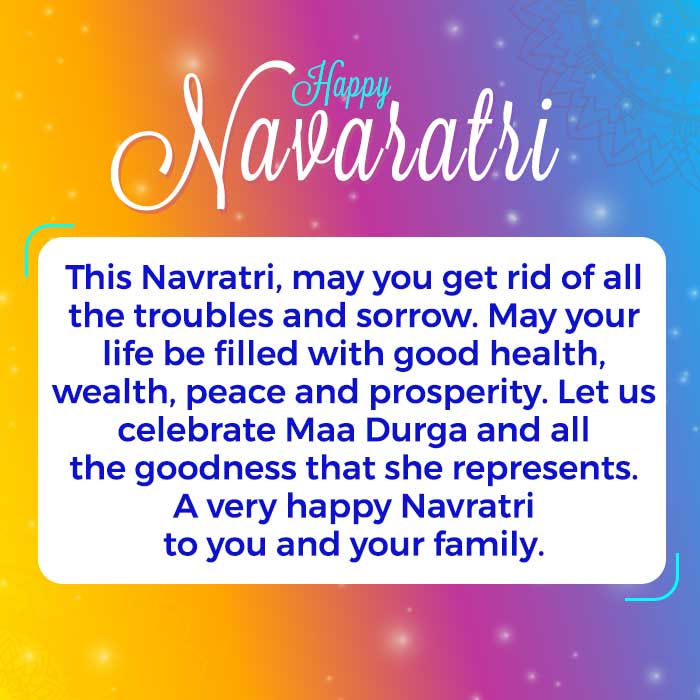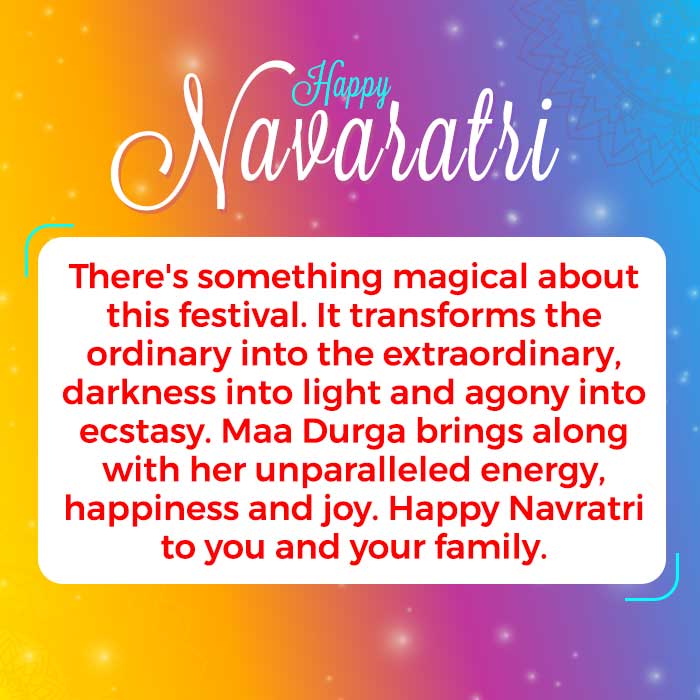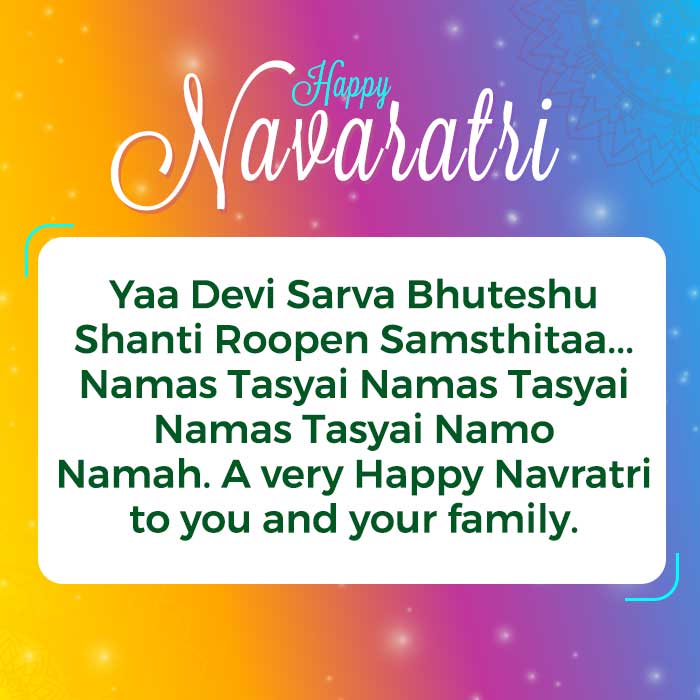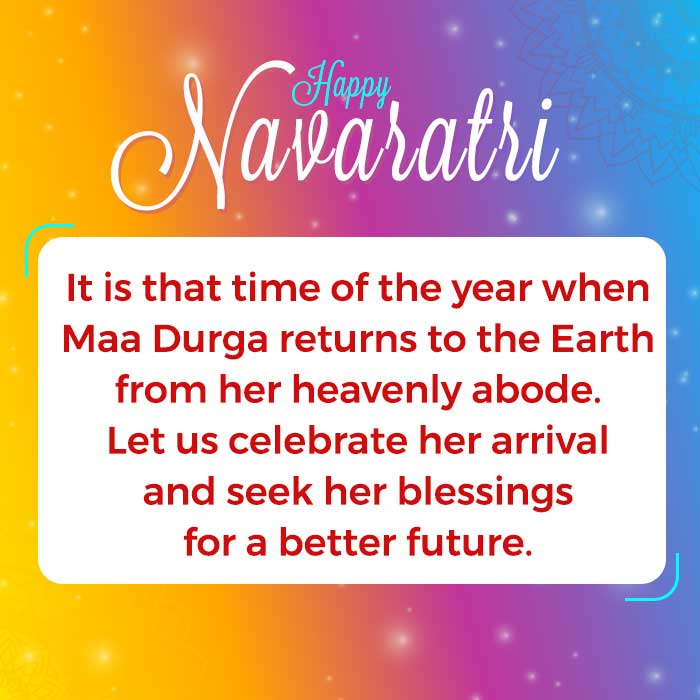 Navrati Songs 2019
There are multiple songs available on the internet which are dedicated to the festival of Navratri. We have brought you some Navratri songs for you to watch and listen to. You can also play these Navratri songs while playing dandiya and Garba.
Darshan Raval – Dil Mera Blast
Chogada
Kamairya
Dholida
Rangtaari
Besides these Hindi Navrati songs there are scores of Gujarati and Bhojpuri Navratri songs available on YouTube, which can make this festival more awesome.
Bhojpuri Navratri Songs
Chunariya Lele Aaiha
Navratri special Bhojpuri Song
Duara Jagrata Hoi
Pawan Singh Navratri Special Song
Saiya Ji Ghare Nahi
Happy Navratri Quotes
May Maa Durga brighten your life with countless blessings of happiness and prosperity Happy Navratri.
Navratri ke absar par hardik subhkamnayen.. May Maa Durga illuminate your life.. with countless blessings of happiness and good fortune.. Shubh Navratri.
Let your home be filled with joyous spirit of this divine occasion. Happy Navratri.
It's Navratri today! I have nothing much to say but for God to bless your way. Happy Navratri.
May Maa Durga illuminate your life with countless blessings of happiness. Happy Navratri.
Happy Navratri WhatsApp Status
माँ की आराधना का ये पर्व है , माँ की 9 रूपों की भक्ति का ये पर्व है , बिगड़े काम बनाने का ये पर्व है , भक्ति का दिया दिल में जलाने का पर्व है…नवरात्रि की शुभकामनाएं!
शेरों वाली मैया के दरबार में दुःख -दर्द मिटाये जाते हैं , जो भी दर पर आते है .. शरण में लिए जाते हैं। जय माता दी
नव दीप जलें , नव फूल खिलें , रोज़ माँ का आशिर्वाद मिले , इस नवरात्री आपको वो सब मिले जो आपका दिल चाहता है…शुभ नवरात्रि
सजा दरबार है और एक ज्योति जगमगाई है ,नसीब जागेगा उन जागरण करने वालो का …..वो देखो मंदिर में मेरी माता मुस्करायी है.. जय माता दी
जगत पालनहार है माँ ..मुक्ति का धाम है माँ .. हमारी भक्ति का आधार है माँ … सबकी रक्षा की अवतार है माँ …शुभ नवरात्रि
इस नवरात्रे माँ दुर्गा आपकी कामना पूरी करें , माँ नैना आपकी नैनों को ज्योति दे , माँ चिंतपूर्णी आपकी चिंता हरे , माँ काली आपके शत्रुओं का नाश करे , माँ मनसा आपकी हर मनोकामना पूरी करे , माँ शेरों वाली आपके परिवार को सुख शान्ति दे , माँ ज्वाला आपके जीवन में रौशनी दे , माँ लक्ष्मी आपको धन से मालामाल करे। जय माता दी !
मां दुर्गा, मां अंबे, मां जगदंबे, मां भवानी, मां शीतला, मां वैष्णो, मां चंडी, माता रानी मेरी और आपकी मनोकामना पूरी करें! शुभ नवरात्रि
लक्ष्मी का हाथ हो, सरस्वती का साथ हो,गणेश का निवास हो,और माँ दुर्गा के आशिर्वाद से आपके जीवन में प्रकाश ही प्रकाश हो॥ शुभ नवरात्री
1..2..3..4.. माता जी की जै जैकार॥नवरात्रि की हार्दिका शुभकामनाये
These are Happy Navratri songs, images, quotes, wishes, WhatsApp status and Facebook messages, which you can send to your friends and family members.
Also Read: Navratri 2019: 10 Navaratri Special Foods You Can Enjoy While Fasting