Neeti Mohan-Anushka Sharma: Celebs who kept themselves fit during pregnancy
From Neeti Mohan to Anushka Sharma, these Bollywood divas who worked out while pregnant.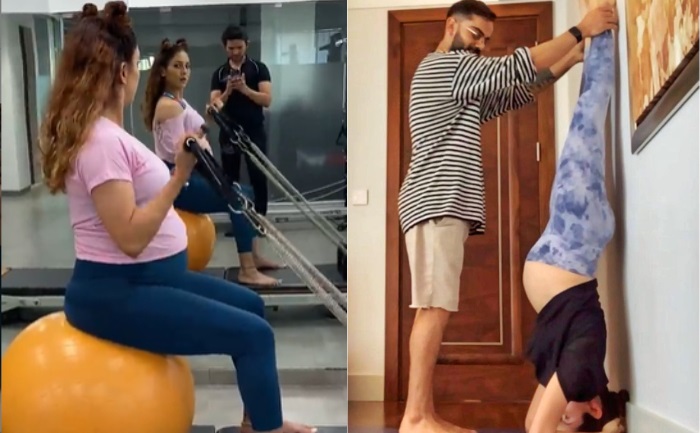 Some celebrities have given strong fitness goals and even pregnancy could not stop them. Over the years, many actresses while they were expecting their news born made sure that they continued to work out till the very last day and even did exercises to make sure that they were staying healthy and fit.
It is a given fact and proven by many Gynecologists that it is perfectly fine for women who are used to high-intensity exercise to continue working out once they get pregnant. Without any further ado, let's check out the list below to see women who have worked out while pregnant.
Celebrities who kept themselves fit during pregnancy:
Kareena Kapoor Khan
In February, this year, Kareena Kapoor Khan gave birth to her second child, a boy with husband Saif Ali Khan. They already have a son, Taimur. During her pregnancy, the actress made sure to also do yoga at home and also took evening walks to keep her body active.
Lisa Haydon
'Queen' actress Lisa Haydon is expecting her third child with her husband Dino Lalvani. The actress is keeping her health in check. The actress often shares some fitness goals even during this time.
Neeti Mohan
Neeti Mohan, who is expecting her first child, with husband-actor Nihaar Pandya shared a post from her maternity diaries. She also shared a video in which, she was seen working out at the gym under the guidance of her trainer.
Anushka Sharma
Anushka Sharma and Virat Kohli welcomed their daughter on January 11 and they named her Vamika. She is known to be a yoga enthusiast. During her pregnancy,  she took everyone by surprise when she posted a throwback photo of herself effortlessly performing the Shirshasana while flaunting her baby bump.
Kalki Koechlin
Kalki Koechlin gave birth to her daughter on February 7, last year was seen giving some pregnancy fitness inspiration. She was also seen doing 'Garland Pose' or 'Malasana', a yoga posture known for its calming effect, and 'Utkata Konasana' or 'Goddess Pose', known for strengthening the hip and helping in making the labor easier.
Amy Jackson
Amy Jackson is definitely one of the most stylish and of course, fittest mommy that we have. During her pregnancy, she often kept giving out major fitness goals. She would also share photos of herself post-workout. Amy welcomed her first baby boy, Andreas with George Panayioto.
Saumya Tandon
Saumya Tandon known for her role in 'Bhabhiji Ghar Par Hain' as Anita Bhabhi is not only she is exceptionally beautiful but extremely fit and active. From 'Goumukhaasan' to the modified 'Surya Namaskar' the actress did it all and it will surely inspire the preggies out there!
P.S Always consult with your gynecologist and yoga practitioner before you practice any type of workout.
ALSO READ:  Women's Day 2021: Women-Oriented Movies To Watch On This Special Day