Priyanka Chopra bridal shower: Did you know Neetu Kapoor, Sonali Bendre partied with Priyanka?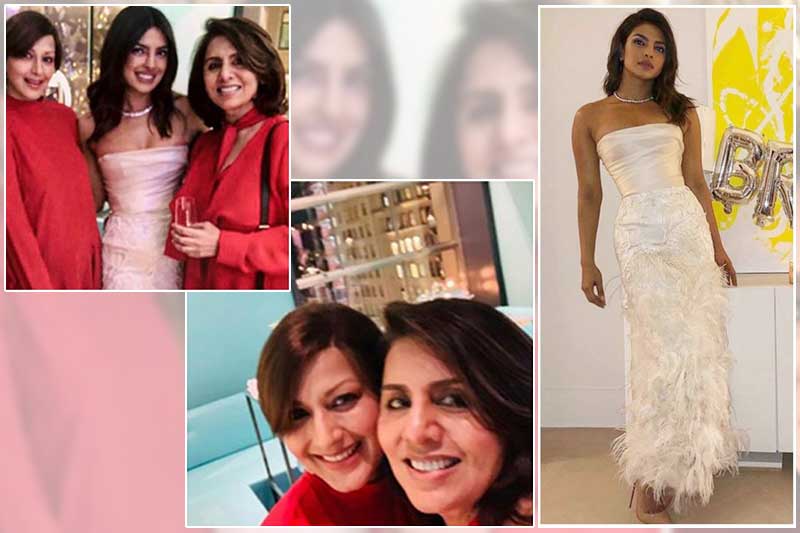 We have shown you many inside pictures of Priyanka Chopra's bridal showers. Neetu Kapoor, who is in New York city with husband Rishi Kapoor and son Ranbir Kapoor shared pictures from the party where she can be seen posing with Priyanka and Sonali Bendre.
Sonali Bendre is also in New York where she is undergoing treatment for cancer. Rishi Kapoor is also getting treated for an unknown illness in NYC. Neetu shared the pictures on her Instagram handle and wrote, "Lovely evening at Tiffany's."
Both Sonali and Neetu are wearing red dresses in the picture, while Priyanka is wearing a shimmery Marchesa gown.The party was held at the exclusive fourth floor flagship Tiffany's outlet.
Reportedly, Priyanka wore Rs 10 crore worth of Tiffany's jewellery for her party. The party was hosted by her best friends, Anjula Acharia and Mubina Rattonsey.
Priyanka's mother Madhu Chopra and to-be mother-in-law Denise Jonas as well as her Hollywood friends, Kelly Ripa.
According to a Vogue report, the guests were given goodie bags that included monogrammed passport cases, mini cakes shaped like the iconic Tiffany box, and champagne.
Neetu Kapoor has been sharing a number of images from NYC. She also posted a heartwarming image of Rishi and Ranbir together.
View this post on Instagram
Sonali too has been sharing constant updates of her progress on social media.
Also read: In pics: Priyanka Chopra's bridal shower at Tiffany & Co's in New York