Neha Kakkar pays Tribute to her favorite singer Arijit Singh, Sings Tum Saath Ho
When Neha Kakkar paid perfect tribute to Arijit Singh.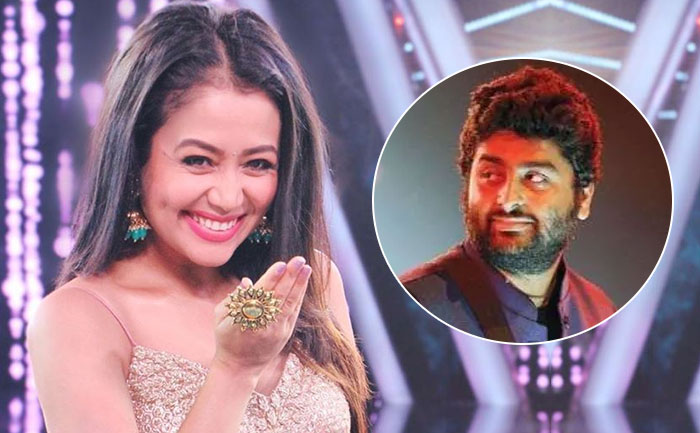 One good thing about music is, when it hits you, you feel no pain and Neha Kakkar' husky voice is like that everlasting memory, you can't escape from it. When you listen to Neha Kakkar' song, your body freezes at the moment leaving your mind absolutely compelled to her voice.
Also Read | Neha Kakkar's THESE Songs Will Make You Cry And Fall In Love Again
Her amazing performances have a magical way of calming you down. Be it a new creation or an old Bollywood song, Neha Kakkar melodiously tune in with perfection. Neha Kakkar has recently bagged multiple awards at the Mirchi Music Awards in various categories too.
Also Read | When Arijit Singh Made The Headlines Without His Songs!
Neha Kakkar has sung dozens of superhit tracks in her career and some of the most popular songs of her include Ladki Aankh Maare, Coca Cola Tu, O Saki Saki, Kala Chashma, Dheeme Dheeme among others.
Neha Kakkar Sang Arijit Singh's Song Tum Saath Ho
Neha Kakkar has recently paid a perfect tribute to her favourite artist Arijit Singh. Neha Kakkar might have sung multiple Arijit Singh's popular tracks but one song which has caught everyone's attention was Tum Saath Ho from Bollywood film Tamasha.
Check out the video below:
In the video, Neha Kakkar can be seen singing Tum Saath Ho, which is originally sung by Alka Yagnik and music maestro Arijit Singh. Recently, Neha gave a new twist to it and sang it like her own. She was joined by Kunal Pandit and Vibhor Parashar.
It is to be noted that Kunal Pandit and Vibhor Parashar were part of Indian Idol 10 which was judged by Neha Kakkar. Since the show ended, Neha Kakkar along with them have performed on multiple shows.
In fact, there were rumours making rounds social media that Neha Kakkar was dating Vibhor Parashar, but the two always rubbished the allegations.