Netflix India wants Amazon Prime to reveal Mirzapur 2 release date
Netflix India tagged Amazon Prime Video requesting to reveal Mirzapur season 2 release date.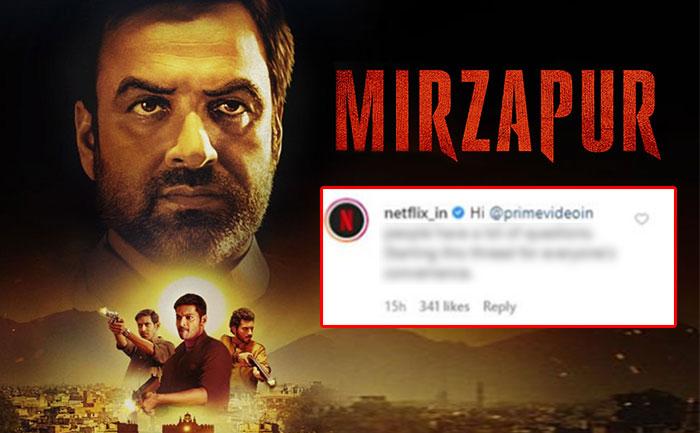 There are millions of people are eagerly waiting for the official announcement of Mirzapur 2 release date but Amazon Prime Video does not seem to reveal it at anytime soon. If you do not believe us, check out not only Amazon Prime India but also Ali Fazal's Instagram post and then you will realize how people are keen to watch Mirzapur 2.
Whenever Ali Fazal or Amazon Prime India put any post on their respective social media handles, there is one question which people want to know and it is when Mirzapur season 2 to be released? Besides common people, Amazon Prime India's competitor Netflix India seems to be eagerly waiting for the announcement of Mirzapur 2 release date.
Also Read | This Video Of All The Slaps From Mirzapur Has Us More Excited About Season 2
Yes, you read that right, Netflix India has left everyone surprised by tagging Prime Video in one of it's an Instagram post to answer people's queries. 
"Hi @primevideoin people have a lot of questions. Starting this thread for everyone's convenience." commented Netflix India an hour after their post featuring Mirzapur's Guddu Bhaiyya (Ali Fazal) & Sweety (Shriya Pilgaonkar) who are also lead stars of Netflix original House Arrest.
The moment Netflix India began the thread, people flooded it by asking Prime the same old question, "Mirzapur 2 kab aayega?"
Keeping the buzz alive among the audience, Prime Video posted a cryptic comment which read as, "bablu bhi yaad hai, sweety bhi yaad hai, dastur kehta hai guddu tum aao aao aao tripathiyon se, mukti dila do aao abb intezaar na karaao aao aao"
For the unversed, Mirzapur is a crime thriller web series. It is produced by Excel Entertainment and directed by Karan Anshuman and Gurmeet Singh. The story of Amazon Prime's 'Mirzapur' web series revolves around drugs, guns, and lawlessness. It describes the putrescence, governance, and rule of mafia dons and the rivalry and crime prevailing in the Purvanchal region of Uttar Pradesh.
It is confirmed that Mirzapur season 2 to release in 2020 but the official release date is yet to be announced.