Covid-19 Outbreak: Healthcare Workers Face Attacks In Various States
In states like Madhya Pradesh, Hyderabad, and Maharashtra, health workers are either assaulted or attacked by public.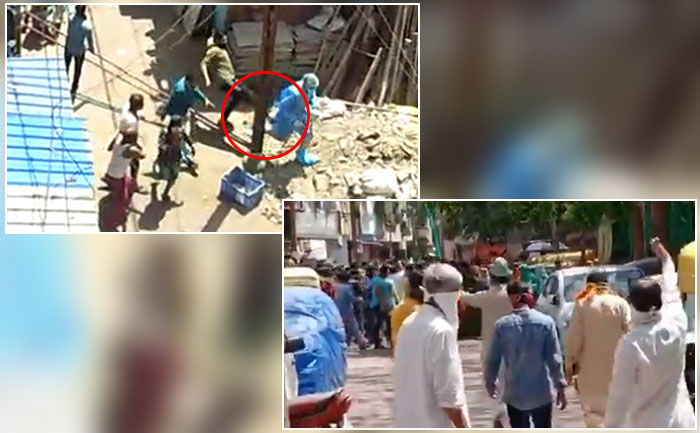 While a few days back the entire country clapped for the emergency and health workers, there come some videos where people are behind them. We all know the fact that doctors, nurses and other health workers are giving their service day and night treating the Coronavirus infected patients. But the recent video that has been doing rounds the social media has put a question mark on humanity.
Madhya Pradesh healthcare workers and civic officials were attacked by a mob in Indore neighbourhood on Wednesday. This happened when they visited the area to screen the residents of the neighbourhood to check if there is any sign of the novel coronavirus infection. In the mob attack, two women doctors were injured and were rescued by the police. Earlier to this attack, locals from the Ranipura area of the city allegedly spat at officials and abused them.
In the video, we see two healthcare workers dressed in light suits running from a mob that is throwing stones and chasing them.
Really shameful – this is how health officials were attacked in #Indore @ChouhanShivraj @PMOIndia #IndiaFightsCorona pic.twitter.com/7Coee4Mugo

— Neeta Sharma (@NEETAS11) April 1, 2020
This is not it. Here's another video from Indore where you can see mob attacking health workers.
#CoronaUpdate Locals pelt Stones on health department officials in Taat patti Indore, engaged in screening of #COVID19Pandemic @ndtv @digvijaya_28 @BeingSalmanKhan @ChouhanShivraj @OfficeOfKNath #CoronaVirusUpdates #COVID19 #lockdown pic.twitter.com/SbJA5Iiwjk

— Anurag Dwary (@Anurag_Dwary) April 1, 2020
Not only in Indore, even in states like Maharashtra and Hyderabad, the health professionals are ill-treated by people. As per a report in NDTV, doctors at Hyderabad's Gandhi hospital were attacked by the relatives of a 49-year-old coronavirus patient. In Gujarat, a healthcare professional named Sanjibani Panigrahi was not allowed to enter her own apartment by neighbours as she was treating coronavirus patients. In Maharashtra, authorities arrested people who assaulted healthcare workers and professionals.
Also Read: PM Narendra Modi Holds Video Conference With CMs On Coronavirus