Sacred Games Season 3 Netflix Release Date, Cast, Trailer & All You Need To Know
Here's how you can watch Sacred Games season 3 on Netflix for free.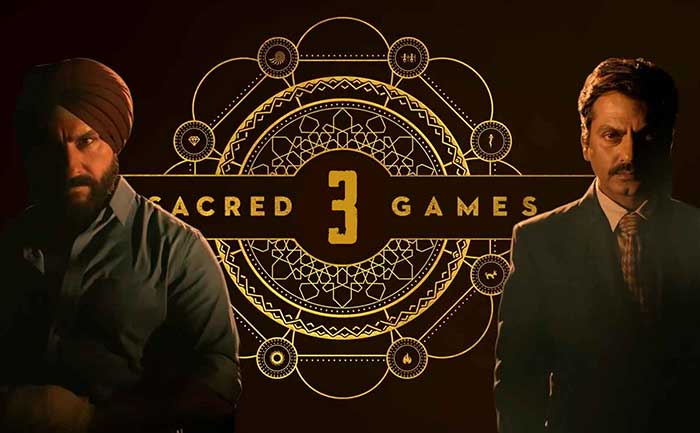 Post the unexpected and cliffhanger that the Sacred Games season 2 ended on, there are millions of people have been waiting with bated breath for the official announcement of Sacred Games season 3. Yes, Netflix has not made any announcement regarding Sacred Games 3 yet.
For the unversed, Sacred Games season 2 showcased how a police officer Sartaj Singh (Saif Ali Khan) tried his best to defuse the nuclear bomb, which has a potential to destroy entire Mumbai city. Somehow, Saif Ali Khan managed to stop a nuclear attack but the ending of Sacred Games 2 left people wanting for more.
If you have watched Sacred Games 2, you have been eagerly waiting for Sacred Games season 3 and we have brought you all the information about Sacred Games upcoming season.
Sacred Games Season 3: Release Date, Trailer, Cast, Episodes & All You Need To Know
When is Sacred Games Season 2 Out on Netflix?
The release date of Sacred Games 2 is yet to be out. Yes, makers of Saif Ali Khan and Nawazuddin Siddiqui starrer web series are yet to confirm whether they are coming up with the third season of Sacred Games or not.
Netflix usually makes an announcement of the next season a few months after the release but the streaming giant has not yet announced Sacred Games new season. The fans of Sacred Games will have to wait a little more to know whether Sacred Games 3 will be released or not.
Looking at the popularity of the series, Netflix is most likely to renew the series. The series has a global reach, as Netflix revealed an Asian event last year that Sacred Games was watched by twice as many people outside of India as within it.
What will happen in Sacred Games season 3?
As the streaming giant has not released the poster, teaser and trailer of the Sacred Games season 3, we can't say what will happen in the upcoming season.
However, looking at the ending of Sacred Games 2, the upcoming season will reveal what happened after the screen cut to black. Speaking about the 3rd season of Sacred Games, Saif Ali Khan told news agency PTI, "This story ends at the end of this season. So I don't know if they will extend it. [But] There is always scope for more."
Vikranmaditya Motwane also revealed in an interview with the Hindustan Times that after season two they will have run out of the source material of the novel of the same name. It is likely that the series will follow Game of Thrones pattern, which continued beyond George RR Martin's novels.
Motwane also revealed that there are so much that they have done which were not in the book. Notably, the character of Kalki Koechlin was not taken from the novel.
As soon as Netflix announces the Sacred Games 3, The Live Mirror will update this article. Till then, you can watch the first and second season of Sacred Games on Netflix.
How to watch online and download Netflix's Sacred Games Season 3?
When the popular web series Sacred Games Season 3 will be streaming on Netflix. All you have to do is to sign-up for a Netflix account. If you do not want to buy Netflix subscription, do not worry the Streaming giant provides a month-long free trial to watch Sacred Games 3 as well as exploring other content on the platform.
Once the trial period ends, there are a few streaming options available for the same. The standard plan of Netflix costs Stateside subscribers $12.99 a month (£10.05). Netflix's other plans, the Premium and Basic, cost $15.99 (£12.37) and $8.99 (£6.96) respectively.
For the unversed, Netflix has a download option, which means you can watch and download all the episodes of Sacred Games Season 3 on the go via the Netflix app.
How many episodes are in Sacred Games Season 3?
Similar to its first two seasons, the third season of Sacred Games Season 3 likely to have 10 episodes.
Is there a trailer for Sacred Games Season 3?
No, the makers of the series have not uploaded the trailer of Sacred Games Season 3 yet. You can watch the trailer of Sacred Games season 2.