New Karnataka CM Kumaraswamy to meet PM Modi today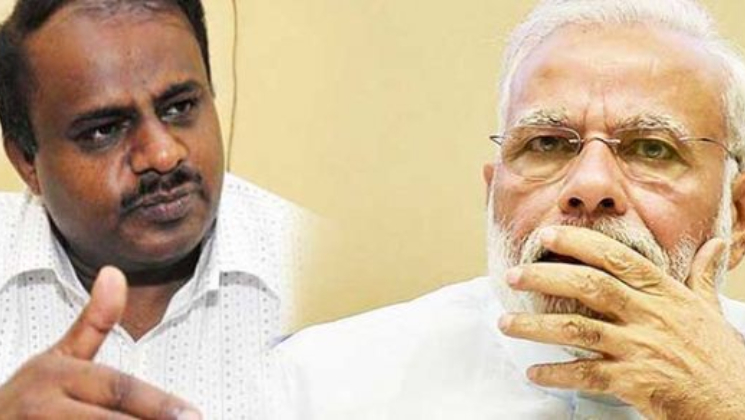 After returning to Bengaluru, Kumaraswamy is expected to extend his Cabinet ministry.
While talking to ANI, Congress' Karnataka in-charge said a bilateral discussion is going on between the Congress and the Janata Dal (Secular) (JD-S) and added that within one or two days it will be finalised. He said, "It will be sorted out within one or two days. After finalisation of the portfolio, immediately we will go for expansion".
When asked about party president Rahul Gandhi's absence from India, Venugopal said it would not affect the cabinet expansion much as he is continuously available over the phone.
Venugopal said,"Karnataka leaders and I are discussing with Janata Dal (Secular). When it will be finalised from our side, then only it will reach the leadership. That is the procedure. Rahul Gandhi is available on phone".
While talking to media on Sunday, Kumaraswamy said, "It is not my independent government. I asked the people of Karnataka for a clear mandate to do their bidding. But now, I am here indebted to the Congress leaders. I am not here because of mandate from state's 6 crore population."
BJP then hits back at the Karnataka CM for his remark with a tweet saying, "This statement of HD Kumaraswamy proves that he cares two hoots to six crore people of Karnataka. A democratically elected CM could not have stooped much lower than this in deriding his own people. One can only imagine the kind of loot he will preside to impress his Congress bosses".
This statement of HD Kumaraswamy proves that he cares two hoots to six crore people of Karnataka. A democratically elected CM could not have stooped much lower than this in deriding his own people. One can only imagine the kind of loot he will preside to impress his Cong bosses. https://t.co/67X1xLgE6n

— BJP Karnataka (@BJP4Karnataka) May 27, 2018
Image Source – OneIndia, Twitter